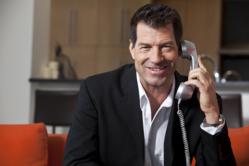 Perhaps that is why we're seeing so many celebrities beginning to use extended handsets with their cell phones, not only for the retro look and protection from unnecessary radiation, but also for the pure comfort and convenience of holding a classic phone
Boca Raton, Florida (PRWEB) November 24, 2011
Dovtel, LLC., is announcing the official online launch of their newly launched website, iMobifone.com. With the company's home office in Boca Raton, Florida, iMobifone.com serves cell phone clients in the continental U.S. market who are concerned about the destruction of healthy brain cells by radiation being emitted by cellular phones. According to a recent report by a panel of experts from the World Health Organization (WHO), the panel determined that an increased risk of glioma, a malignant form of brain cancer, appears associated with wireless phone use.
After reviewing dozens of studies that explored a possible link between cancer and the ubiquitous hand-held phones, the experts classified cell phones as "possibly carcinogenic to humans" and placed them in the same category as the pesticide DDT and gasoline engine exhaust.
According to the company's public relations department, it is estimated that 5 billion cell phones are in use. "The number of users is large and growing, particularly among young adults and children," they stated. "As fathers ourselves, let alone avid cell phone users, we discovered that children's skulls and scalps are thinner. So the radiation can penetrate deeper into the brain of children and young adults. Their cells are dividing at a faster rate, so the impact of radiation can be much larger. The challenge was to come up with a newer handset that would not only solve the radiation problem, but offer a handset device into the marketplace that was cool to use, hip and fun."
It appears that iMobifone handsets, with their stylish retro look and feel, are fast becoming accepted as a necessary accessory to any mobile phone. Available in nine different colors, and adaptable to almost every brand and type of mobile phone, these classic handsets have been clinically tested to screen out 96% of emitted radiation, therefore no longer posing a hazardous threat to cell phone users worldwide. Instructions that come with the iMobifone have been printed in four different languages, including Spanish, French, German, and Italian.
The company further stated, "Perhaps that is why we're seeing so many celebrities beginning to use extended handsets with their cell phones, not only for the retro look and protection from unnecessary radiation, but also for the pure comfort and convenience of holding a classic phone in one's hand without fumbling with small cell phone units. And today, with so many people no longer purchasing land lines, the iMobifone is also the perfect home telephone when connected to your favorite cell phone."
The company's website is currently giving away a free adjustable belt holder to keep your iMobifone handy and ready to take calls in an instant. You can check for more information online at the website to see pictures, surprise celebrity videos and testimonials of handsets in use. Visit http://www.iMobifone.com.
About The Company:
http://www.iMobifone.com/
"Clear Your Brain"™
iMobifone.com is the solution for cell phone radiation and retro style cell phone handsets. To learn more about iMobifone products, which currently are only available on its website and not in any retail store, follow the links found at: http://www.imobifone.com. For product display, be sure to watch the specially produced two minute video in upper left of your monitor.
For More Information, Contact:
Dovtel, LLC., Media Relations
2385 NW. Executive Dr., Suite 100
Boca Raton, FL 33431
U.S.A.
E-mail: eddie(at)imobifone(dot)com
Telephone: (561) 401-0636
###