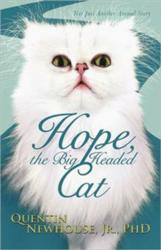 Montreal, Canada (PRWEB) November 23, 2011
People have kept cats as pets for thousands of years, dating back to the ancient Egyptians who considered cats to be spiritual, even deities. But it seems that humans and cats are having more difficulty coexisting in today's world. According to the ASPCA, up to 7 million animals enter animal shelters each year, and approximately 70% of the cats in animal shelters are euthanized. Hoping to reconnect people with their pets, Dr. Quentin Newhouse, Jr. releases Hope, the Big Headed Cat: Not Just Another Animal Story (published by WestBow Press), a new non-fiction book for young readers and pet lovers.
Hope, the Big Headed Cat was inspired from Newhouse's own life. He says, "The book chronicles the four month period during which I rescued and interacted with a critically ill adopted cat. During that period, I discovered that the cat evidenced spirituality, sensitivity and was sicker than I thought."
Newhouse is an advocate for shelter animals, arguing that not only can people save the lives of animals but also that animals are equally important to people's lives. After adopting Hope, Newhouse realized the pressing need to adopt shelter animals. "One can learn from anyone and anything," says Newhouse, "even a sick cat."
Readers are given a glimpse into the healing power of the friendship between Newhouse and his adopted cat in his new book, Hope, the Big Headed Cat.
About the Author
Quentin Newhouse, Jr., Ph.D. experienced a spiritual miracle through the life of his cat, Hope. Newhouse, a career educator who has taught for more than 10 universities and colleges, is also a life coach and poet. She showed courage and faith in the face of numerous physical handicaps. Although deaf, with heart and kidney problems, Hope ministered to him through her unselfishness and devotion. Newhouse had previously always loved dogs and had two cats for a brief time. He also never realized that God can minister health to anyone through anything, even a sick cat. Hope had spirit and always showed love.
WestBow Press is a strategic self-publishing alliance of Thomas Nelson, the world's premier Christian publisher, and Author Solutions, Inc. (ASI)—the world leader in the fastest-growing segment of publishing. Through this partnership, authors benefit from the rich publishing heritage of Thomas Nelson and the speed-to-market advantages of the ASI self-publishing model. Titles published through WestBow Press will be evaluated for sales potential and considered for publication under the Thomas Nelson imprint. For more information, or to start publishing today, visit westbowpress.com or call 866-928-1240.
###