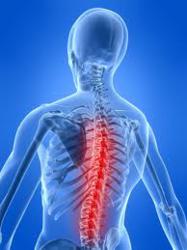 long stretches on your feet whilst shopping, carrying heavy bags, and poor posture are the main causes of festive aches and pains
Tweed Heads, NSW (PRWEB) November 23, 2011
Dr Barbary, chiropractor Tweed Heads, says that long stretches on your feet whilst shopping, carrying heavy bags, and poor posture are the main causes of festive aches and pains. And the last few years has seen the advent of a new phenomenon - the Wii injury!
"It's important we look after our backs all year round" says chiropractor Dr Barbary, 'but especially at Christmas when back ache becomes more prevalent. Following these tips will keep you pain-free so you can enjoy the holidays."
Here Dr Barbary, chiropractor NSW, tackles some of the top reasons for back injuries at Christmas:
1. Shopping for long periods: Making sure you're wearing the right gear is important. Wear comfortable shoes with plenty of support. Now is not the time to show off those new high heels you accidently bought whilst doing the Christmas shopping. Sneakers look comfortable for a reason! And take proper shopping bags (not the plastic bags), making sure they're evenly balanced. Even better, take a backpack, and use a trolley whenever possible.
2. Carrying heavy shopping bags: Bend your knees and keep your back straight when picking them up. Do multiple trips and don't try to carry too much at once.
3. General posture: With the stress and strain of Christmas it's easy to let your posture go. Be mindful to sit and stand properly. If you catch yourself slumping, stand up, walk around and have a stretch. Keep up your exercise, yoga, pilates and chiropractic.
4. Wii injuries (when computer games attack): Consider gentle warm-up exercises before you start. There's no need to swing the controller or nunchucks around wildly - small movements are enough. And always keep a firm grip on them - you don't want to clock old auntie Beatrice in the head.
5. Stress: Along with physical stress, mental and emotional stress also adds to the strain on your back. Make time to focus on reducing the stresses in your life. Try to get prepared early if possible to reduce last minute pressure.
Advanced Health & Chiropractic is based in Tweed Heads, northern NSW. To find chiropractor services in the Tweed Heads area head to http://www.tweedchiropractor.com.au or call 07 55 234 757.
###