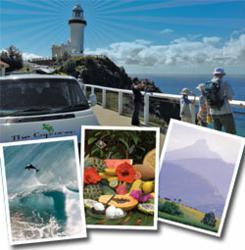 the number of daytrippers visiting Byron Bay increased 32% from 2009 to 2010, and 35% over the last five years
Gold Coast, QLD (PRWEB) November 24, 2011
The Explorer Tours & Charters offers luxury day trips from the Gold Coast to Byron Bay five days a week. Owner Shaun Allen has lived and worked in the region for 15 years and guides all of the tours himself. Setting them apart from other Gold Coast day trips, they have never cancelled a tour and run intimate trips with a maximum of nine passengers.
The online booking service was launched in response to a growing number of visits to their website. The service is quick, user-friendly and secure, hosted by Australia's number one online tour desk ticketing company TicketMates.
"We want to make it easy and convenient for customers to book with us," says Mr Allen "particularly as our site visits are climbing and the internet is becoming increasingly important for information and booking before a trip."
Some more good news in the report for Mr Allen is that the number of daytrippers visiting Byron Bay increased 32% from 2009 to 2010, and 35% over the last five years.
To book your next Gold Coast day trip to Byron Bay with The Explorer Tours & Charters visit http://www.theexplorer.com.au
###