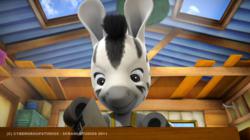 Bakery Relight is a really great piece of software - amazingly efficient, very controllable.
Gemenos, France (PRWEB) November 22, 2011
The Bakery (http://www.bakery3D.com), the 3D computer graphics software company, will be hosting an in-depth Tech Talk on Bakery Relight™ on day one of this year's SIGGRAPH Asia show. The talk will focus on the next steps for the company's interactive 3D lighting and look development software, Bakery Relight, as it enters its second year in full-time production at studios worldwide. Demonstrations of Relight will also take place throughout the show on booth C22. SIGGRAPH Asia takes place at the Hong Kong Convention & Exhibition Centre from 13.-15. December 2011.
"We're currently exploring new areas in the field of rendering production pipeline processes, to open the Relight interface to other technologies and generalize the Bakery workflow to address general pipeline production aspects, such as asset management/process management," says Bakery co-founder and CEO, Erwan Maigret, whose credits include Technical Lead on "Shrek 2", "Madagascar" and "Shrek the Third". "At SIGGRAPH Asia 2011, we will be showing how users of mental ray® and RenderMan® will soon be able to benefit from Relight's unique workflow model, and how the toolset will evolve in 2012 and beyond."
Bakery Relight users from across the Asia region have also added their endorsements as the show approaches:
"Our team has become so used to Bakery Relight now, that we can't imagine working on future projects without it!," says Wong Chi Kong, COO at Scrawl Studios Pte Ltd (http://www.scrawlstudios.com), Singapore/Scrawl Suzhou Co. Ltd, China. "In the past, it would have taken us two to three times longer to light our scenes to the amazing standard, which Relight can achieve – not to mention the additional time for rendering and compositing! Bakery Relight gives us far greater control in terms of consistency and quality, and is extremely quick and easy to make amendments. We can train almost anyone to use the software, without a long familiarization period. This is great when we need to re-deploy people quickly to help out with lighting and rendering work in crunch deadline situations."
Jin Liu, General Manager, T-ANI Digital Image Co., Ltd, China (http://www.t-ani.com) said, "Bakery Relight is a really great piece of software - amazingly efficient, very controllable. It provides a smart rendering solution that is extremely useful for complicated projects. With Relight, you almost feel that you have the constant support of an invisible lighting technical director! We're able to obtain the rendered results of lighting modifications within seconds, which gives our artists more time for creativity, and less time waiting for rendering. Based on the data cache of particle clouds, Relight makes full use of our hardware and dramatically increases our productivity. For us, the best part is that because of Relight, we have less expenditure on hardware. This is a key factor for many companies here in China."
Bakery Relight is available for Linux and Microsoft® Windows® and is fully compatible with leading animation and VFX software packages, such as Autodesk® Maya®, Autodesk® Softimage® and Autodesk® 3ds Max®.
To view the latest range of Bakery Relight demo videos, visit: http://www.youtube.com/user/bakeryrelight/.
For further information on Bakery Relight, visit: http://www.bakery3d.com.
For further details on the SIGGRAPH Asia 2011 Exhibition and Tech Talk program, visit: http://www.siggraph.org/asia2011/exhibitor-tech-talks.
About the Bakery:
The Bakery (http://www.bakery3D.com) is a 3D computer graphics company that provides pioneering software solutions for the feature film, TV and the industrial, architectural and automotive design industries. The company's first product is Bakery Relight™, an interactive lighting and rendering suite of tools for the high-end feature film, TV and design markets. The Bakery was founded in Gemenos, France in 2007 by veteran motion picture artists and technologists, Erwan Maigret and Arnauld Lamorlette. In 2011, Lamorlette earned an Academy Motion Pictures Arts and Sciences Technical Achievement Award for co-developing a global illumination solution, and Maigret holds a patent on laser-based glasses technology.
TM & © 2007-2011 The Bakery. All Rights Reserved. All other product and company names herein may be trademarks of their registered owners.
###