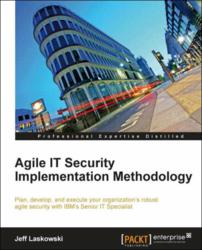 UK (PRWEB) November 25, 2011
Birmingham: Packt Publishing is pleased to announce the publication of the book and eBook: Agile IT Security Implementation Methodology. Written by Senior IBM Specialist, Jeff Laskowski, and aimed at IT security managers, directors and architects, this title is designed to combine Agile software development best practices with IT security practices to produce first rate results and minimize costs.
Agile IT Security Implementation Methodology teaches readers how to deal with the ever-increasing threat to IT security and helps individuals to build robust security with lower costs than most other methods of security. It is designed to teach the fundamental methodologies of an agile approach to IT security. Through this book, readers will be able to create an Agile blueprint and build a threat model for high value asset.
More book details can be found on Packt's website. The print price is $19.99, and the eBook version can be purchased for $11.99.
About Packt Enterprise. Packt Enterprise is the publishing division of Packt Publishing that develops books and eBooks for IT Enterprise professionals. The division publishes across many spaces including Oracle, Microsoft and IBM.
Packt Enterprise can be followed on Twitter via @PacktEnterprise.
Packt Enterprise also has a Facebook page. Search for Packt Enterprise.
###