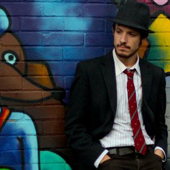 "Delicate, soaring pop"
Indiestore panel of music journalists, including NME and Rolling Stone, 2006
London (PRWEB) November 23, 2011
Single Released on iTunes
James Harker's three-year journey to produce his debut album The Red Room began at the 2008 Edinburgh Festival. He performed regularly in a dingy room at the foot of North Bridge, which had been converted into the 'Red Room': a sumptuous boudoir for immersive, avant-garde music and drama.
"The Red Room, and the whole bubble surrounding it was a chaotic, volatile experience. Reality had been barred entry, and consequently everything – and everyone – became intensified and unstable," says James. "On the one hand, it had been huge fun. But when I came up for air I was conscious of so many things: the fickleness of identity, the unpredictability of love, the conflict of emotion and morality; but, as Boy George pointed out, there's an art to feeling sorry for yourself." And so, James began to document his feelings in the 12 songs that came to constitute The Red Room.
A year later James found himself with a window of time to record the album. It was now or never, but he was also completely broke. So, he hooked-up with a string quartet at his old university, and with an old school-friend who had a semi-professional studio in the Derbyshire countryside. No money would change hands, and James made ends meet working as a restaurant piano player, an actor, and a short film soundtrack composer.
Because of financial and technical limitations, The Red Room would have to eschew studio gloss. Besides, this was not an album of pop music clichés:
"I needed it to feel real and engaging. I wanted it sometimes a bit clumsy, a bit messy. Not for it to sound awful, but hearty and human. Some of my favourite records are real, visceral and inviting in their imperfection; full of space, dirt, and heart. You can't climb into a mainstream pop song; you can only stand outside and feel bad for not wearing glamorous-enough clothes. I want to make records like those of my idols; songs into which you can clamber, settle down, and listen as they unfold around you."
After recording, James worked with film director Nik Morris on a music video for the album's first single: Last Days Of Rome. Attempting to capture the essence of the original Red Room, they collaborated closely to translate emotions and images into a compelling story, working on a micro budget to create an exciting and visually stunning short film.
Now, a full three years after its conception, the record is finally finished. A textured, organic album of 12 songs. The Red Room blends the graininess of Nick Cave & The Bad Seeds, the soul of early Elton John, the mournful sincerity of Antony & The Johnsons, and the dandyish humour of The Divine Comedy.
It's ready to be heard.
Single Last Days Of Rome available on iTunes
Music video available to watch on Youtube
The Red Room to be released in the new year - Date TBC
Available on iTunes and other download stores and as a limited edition double CD from: http://www.jamesharkermusic.com
###