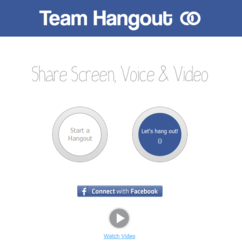 Team Hangout is a free web conferencing service optimized for very simple to use ad-hoc online meetings.
(PRWEB UK) 24 November 2011
Team Hangout stands out with its simplicity of creating an online meeting. Anybody that would like to get together with their colleagues and collaborate online can navigate to teamhangout.com, start an ad-hoc online meeting and invite participants in seconds. A short video on the website explains how to use Team Hangout in just few steps (click the play icon).
Team Hangout lets people use the existing ISL Groop software capabilities and is a fully functional online meeting software with no user limitations that works on all major operating systems (Windows, Mac and Linux). The feature pack includes:

Video conferencing: live chat, VoIP audio, webcam video,
Automatic sound and video device detection – no settings required,
USB audio device hot-plugging during a web conference,
Share live content: screen sharing, application sharing, region sharing,
Share static content: PowerPoint presentation, images, clipboard content, a snapshot of live screen, text,
File sharing,
Annotations: text, arrows, highlighter, pen
Highest security: AES 256 Bit SSL.
Team Hangout is a completely free web conferencing service, it's not ad-supported and does not require any registration. Online meetings started through teamhangout.com are public and can be joined by anyone visiting the website. On the other hand, a user can connect the free web conferencing application with his Facebook account. This option gives users considerably better privacy as online meetings started from Facebook can only be seen and joined by the user's friends if they have the Team Hangout installed.
Team Hangout is a perfect tool for informal ad-hoc online meetings and teamwork between friends or co-workers, while for serious business meetings, where privacy and security of the data discussed play the leading role, ISL Online recommends using the original web conferencing software ISL Groop, which lets you organize private meetings with selected participants.
About ISL Online
ISL Online is a privately owned IT business based in the UK which provides SaaS-based remote support and web conferencing software to quickly, simply and securely connect millions of internet-enabled devices across the globe – Windows, Mac or Linux computers and smartphones. Designed for consumers, mobile professionals and IT organizations, ISL Online's solutions empower over 120.000 business users like Konica Minolta, IBM and IDEXX to create more than 5 million sessions yearly.
###