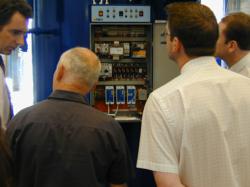 We enjoy seeing technicians and engineers grow in confidence as they improve their knowledge
Bristol, UK (PRWEB UK) 23 November 2011
Its Operator Routines & Maintenance course, which is designed for boiler operators, covers basic day-to-day operation and monitoring and provides employees with the knowledge required to monitor a boiler and ensure it is running efficiently and safely. It also includes training in operational procedures, daily blowdowns, and checking of water levels, alarms, etc. the course also examines the importance of correctly treated feedwater and what boiler inspectors will look for during routine insurance inspections.
The second course – Knowledge of Steam Systems – looks at both the boiler system in depth as well as auxiliary equipment including the steam and condensate loop. It is aimed at more experienced operators such as technicians and engineers.
Commenting for Fulton, customer services manager Jeff Byrne says: "We have always promoted the benefits of operator training to our customers and we enjoy seeing technicians and engineers grow in confidence as they improve their knowledge. Training also proves invaluable to employers, as operators handle more of their own maintenance and repair and avoid call-outs to 'boiler breakdowns' that require no more than the simple flick of a switch to resolve. Real examples like this prove that a Fulton one-day Operator Routines & Maintenance course could potentially save the cost of many expensive and unwanted engineers' visits."
As no two boiler facilities are the same, Fulton prefers to run courses at customers' own facilities so that technicians and engineers learn on the equipment they will be monitoring day-to-day. However, the in-house facility at Fulton's Bristol headquarters can accommodate training for its range of electric, gas, oil or dual-fuel fired vertical and horizontal steam boiler systems.
For further information on its training programme, call 0117 972 3322, email jeff.byrne(at)fulton(dot)com or visit http://www.fulton.com.
###