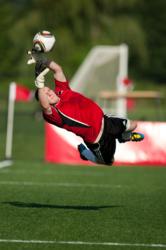 Lakewood Ranch, FL (PRWEB) November 22, 2011
Top Ranked International Teams to Play at Nike Soccer Tournament
U.S. Under-17 Men's National Team to Face Turkey, Brazil and France
The 2011 Development Academy Winter Showcase and Nike International Friendlies will be held next week at the Premier Sports Campus in Lakewood Ranch, Fla.
All 78 Academy clubs will travel to Lakewood Ranch for three games of non-conference play during the Winter Showcase, which will take place from Dec. 2-6.
The U.S. Under-17 Men's National Team, will face off against Brazil, France and Turkey during the Nike International Friendlies from Nov. 30-Dec. 4.
The US Team will play Turkey on November 30 at 5 p.m. The US Team will play France on December 2 at 5 p.m. and the US Team will play Brazil on December 4 at 5 p.m.
International games will be broadcast live by the Fox Soccer channel and organizers expect about 15,000 people to attend.
This event is FREE and open to the public. The event will mark the ninth Nike International Friendlies, previously called the Nike National Team Friendlies, held in the area since 2003. The U.S. U-17 Men's National Team has participated in all nine competitions while Brazil will be appearing for the seventh time, Turkey for the third time and France for the first time.
For the full game schedule & media parking information please contact Candice(dot)mcelyea(at)lakewoodranch(dot)com
The Premier Sports Campus at Lakewood Ranch is a multi-purpose facility that is home to 22 full-sized, mixed-use fields for soccer, lacrosse and other amateur sports, and features Celebration grass and underground irrigation. The complex is used for amateur and professional top-flight and world-class sporting tournaments, events, camps and clinics and is located in Lakewood Ranch – the 8,500-acre, award-winning master-planned community in Sarasota and Manatee counties on the West Coast of Florida. http://www.lakewoodranch.com
###