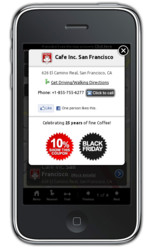 BranchMaps.com makes it possible for local businesses to go live with a branded mobile application in less than 5 minutes
(PRWEB) November 24, 2011
Local business marketing is a challenging task these days as the global economy suffers from the worst recession since the Great Depression. Local businesses are looking to differentiate from the competition and increase sales. Most of the small-medium size local businesses can't afford hiring programmers to create a branded mobile application to promote the business. The high costs of developing such application and the risk of not seeing the investment returning makes most of the local businesses owners and marketers turn to shared-space directories such as Yellow Pages, Google Places and more.
BranchMaps.com seeks to change this situation and provide the businesses with an instant branded mobile app that is fully dedicated to their business.
"The model of "See results before you pay" fits perfectly with the way small to medium sized local businesses like to work with", says Yogev Triki, inventor and head of product at BranchMaps.com, "by minimizing the risks to zero for the business owner we seek to expose thousands of businesses to a new and effective local business marketing channel."
BranchMaps.com makes it possible for local businesses to go live with a branded mobile application in less than 5 minutes, requiring no technical skills and pricing it all as little as $79/month. The package includes Social Marketing and a Coupons promotion tool including the newly introduced "Black Friday" coupon.
"It is time for every local business to enjoy the benefits of location based mobile marketing." says Shlomo Emanuel, CEO at AtlasCT, "We focus on providing the local businesses with unique tools that are focused entirely on increasing their customers base."
BranchMaps.com is available at: http://www.branchmaps.com
# # #