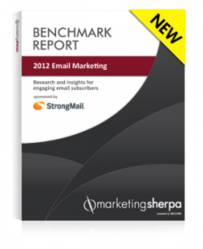 Consumers' inboxes are overcrowded, and if they receive an email, it absolutely must provide them value. Engaging, relevant content is crucial to achieving that goal.
Jacksonville, FL (PRWEB) November 22, 2011
MarketingSherpa's just-released 2012 Email Marketing Benchmark Report defines the state of email marketing today. More than 2,735 B2B and B2C organizations reveal their challenges, setbacks, and achievements documented in over 175 charts with analyses, hundreds of insights, case studies of real-world success stories, and more. It investigates the maturity level of email processes, examining marketers' barriers to email success and what they're doing to overcome them.
"Consumers' inboxes are overcrowded, and if they receive an email, it absolutely must provide them value. Engaging, relevant content is crucial to achieving that goal," says W. Jeffrey Rice, author of the report and Senior Research Analyst for MarketingSherpa. "Yet, our survey results indicate marketers struggle with that imperative because of limited time and resources. That's probably why nearly 70 percent of organizations plan on increasing their email marketing budgets this year.
"More importantly, the report outlines real-world best practices that are increasing the accuracy and velocity of email communications," he continues. "If you want to see how your organization's email marketing efforts compare to thousands of others, while attaining a benchmark to help you optimize your email marketing efforts, the 2012 Email Marketing Benchmark Report is the smartest place to start."
Here are some highlights from the 194-page study:

Only 28 percent of marketers report their messages contained relevant content, are sent on time to targeted subscribers, and had a clear conversion goal.
20 percent admit that email messages are sent after the target date to everyone on their list with an unclear conversion goal.
69 percent report delivering highly relevant content a top objective in 2012.
67 percent plan to increase their email budget in 2012, with 20 percent planning to increase it more than 30 percent.
Download a free executive summary.
Purchase the 2012 Email Marketing Benchmark Report before November 30 to save $100, courtesy of StrongMail, the report sponsor. To purchase, go here: http://www.sherpastore.com/2012EmailMarketingBMR.html
Media Contact: Bethany Caudell, MECLABS, 1-800-517-5531
About MarketingSherpa
MarketingSherpa publishes practical Case Studies, Benchmark Reports, exclusive research, how-to instructional materials and eight content-specific newsletters for more than 237,000 content, email, inbound marketing, search, B2B and consumer marketing professionals each week. In its tenth year, the marketing research publisher has been praised by The Economist, Harvard Business School's Working Knowledge Site and Entrepreneur.com. Along with MarketingExperiments and InTouch, MarketingSherpa is part of the MECLABS Group, which offers marketers practical research data and information, professional training and networking summits.
About StrongMail Systems, Inc.
Every day, StrongMail is empowering leading brands to engage and grow their customer base through email marketing and social media. From the world's largest enterprises to the hottest daily deal sites, StrongMail is helping smart marketers boost the performance of their programs with cutting-edge lifecycle email marketing capabilities and the ability to deliver millions of highly personalized messages in minutes. Our products and services provide end-to-end solutions for such notable brands as Travelocity, Macy's, McAfee, Viacom and T. Rowe Price. Learn more at http://www.strongmail.com, or follow us online at http://www.twitter.com/StrongMail or http://www.facebook.com/StrongMail.
###