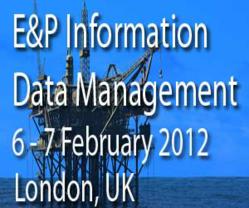 The entire conference and speakers presentations were very good and useful for information management
Kuwait Oil Company
London, UK (PRWEB UK) 24 November 2011
Book before 2nd December receive £300 discount Quote 'PR web'
Building upon the resounding and ever-growing success of their past 13 E&P Information and Data Management conferences, SMi are proud to announce their 14th annual conference on the 6th & 7th of February 2012 in London.
The 2012E&P Data Information and Management will have panel debates on maintaining best practice in upstream E&P data operations, human factors and mitigating risk and the key challengers facing data mangers and overcoming these will be thrashed out.
E&P Information Data Management will feature international IM leaders from the Oil, Gas and Information Technology sectors addressing both the 'how' and the 'why' of effective E&P data management, examining the means of establishing and maintaining best practice and the value to be derived from robust and innovative IM and DM systems.
Managing upstream E&P data is a common difficulty facing both large and small E&P companies alike, and drawing upon extensive industry knowledge this long standing conference will seek to explore how effective E&P data management programs can simultaneously support both day to day operations and the bottom line.
Comprising a diverse mix of key industry players including Troika International, the British Geological Survey, Statoil, and GDF SUEZ E&P UK this conference will seek to explore the strategic, commercial and technical aspects of upstream data management.
Confirmed 2012 speakers include:
•Global GIS Coordinator, Shell Global Solution International on Behalf of OGP Geomatics Committee
•Global Geodetics Advisor, ExxonMobil
•Data and IS Manager, Total E&P Nigeria
•IS Programme Manager, GDF SUEZ E&P UK
•Leading Adviser Data Management, Statoil
•Senior Engineer Petroleum Data, Kuwait Oil Company
•Manager, Corporate Data and Information Management, ENI E&P
Case studies presented will focus on
•DELIVERING GEOSPATIAL DATA INTEGRITY
•DRIVING PRODUCTIVITY THROUGH SEISMIC DATA MANAGEMENT EFFORTS
•TOTAL NIGERIA E&P
•PROCESS AND TECHNOLOGY: DELIVERING
•SELLING INFORMATION MANAGEMENT INITIATIVES TO UPSTREAM BUSIENSSES: EXPERIENCE AT ENI E&P
Sponsored by: Blueback Resvoir, DataCo, Neuralog and Infotech Enterprises
For sponsorship contact Jules Omura on Tel +44 (0)20 7827 6018 or email: jomura(at)smi-online(dot)co(dot)uk
Contact Andrew Gibbons for more information or to secure a place Tel: +44 (0) 20 7827 6156 or email: agibbons(at)smi-online(dot)co(dot)uk
###