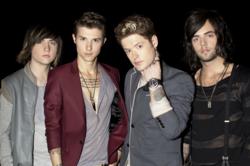 Galveston Island, TX (PRWEB) November 23, 2011
The American Music Award's Sprint New Artist of the Year, Hot Chelle Rae, will be the headline entertainer at Mardi Gras! Galveston 2012 in February.
Hot Chelle Rae exploded onto the national music scene earlier this year with their single "Tonight, Tonight." The first official single off their sophomore album titled "Whatever," rose to number seven on the Billboard Hot 100 Chart. The single eventually went double platinum and the band's fan following continued to grow through its success.
Hot Chelle Rae will perform in front of thousands of fans and Mardi Gras attendees at 10 p.m. on Saturday, February 11, 2012. The concert will be held at Saengerfest Park, located at 23nd and Strand St, Galveston, TX 77554.
Mardi Gras! Galveston 2012 will kick off on Friday February 10, 2012 and continue until Fat Tuesday, February 21, 2012. This year's event is the 101st celebration and will include 26 concerts, 24 parades, 19 balcony parties and five elegant masked balls.
Advance tickets for admission to the Entertainment District where most concerts will be held, including the Hot Chelle Rae concert, will be available online December 1. To purchase tickets, please visit http://www.mardigrasgalveston.com.
To listen to HCR's latest single, "I Like It Like That," featuring New Boyz, please visit http://www.myplay.com/audio_player/hcr/468780/691620/691621?allowBrowsing=1
For more information on Hot Chelle Rae, please visit their official website at http://www.hotchellerae.com.
For more information regarding Mardi Gras! Galveston 2012, please visit http://www.mardigrasgalveston.com.
About Hot Chelle Rae
The pop rock tunes of Hot Chelle Rae began in Nashville, TN in 2005. Their first album, titled "Lovesick Electic," was released in 2009 with moderate success. The band exploded onto the national scene with their two-time platinum single, "Tonight Tonight," in 2011. It was the first official single off their sophomore album, "Whatever," and peaked at number seven on the Billboard Hot 100 Chart.
About Mardi Gras! Galveston
Mardi Gras, the traditional festival of feasting and merrymaking that precedes the season of Lent, was first publicly observed on Galveston Island in 1867. Following a sabbatical imposed in 1941 by war and challenging times, Mardi Gras! Galveston was revived in 1985 by Galveston-born preservationist and developer George P. Mitchell.
The largest celebration of its kind in Texas, the event has grown in cultural creativity and imagination, showcasing lavish parades, galas worthy of royalty, original artwork, children's activities and delicious Gulf Coast cuisine.
Still led by Galvestonians and their respective krewes, the grandeur is evident in the dueling parades that range from whimsical daytime processionals to elaborate night parades offering dramatic flair. The streets come to life with parade viewers shouting for beads, lively tunes played by the colorful marching bands, and the infectious merriment that dominates the island for two full weeks.
Hotel availability is limited on the Island and guests should reserve rooms at the earliest convenience. For a complete schedule of events and more information about Mardi Gras! Galveston visit http://www.mardigrasgalveston.com.
###