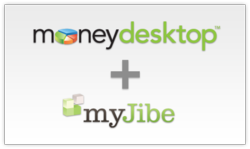 Ryan and the MoneyDesktop team share this vision, and through their growth, have asserted themselves as the leader in PFM for financial services
Provo, Utah (PRWEB) November 22, 2011
MoneyDesktop, the fastest-growing PFM (personal financial management) solution for financial institutions, announced today that it has acquired MyJibe, another innovative PFM software provider. The acquisition amplifies MoneyDesktop's ability to re-define the role of PFM in online banking and establish itself as a vital solution for financial institutions. Terms of the transaction were not disclosed.
As a result of the acquisition, MyJibe Co-founder and CEO, Michael Langellier and his Co-founder and CTO, Brandon Dewitt, will join the MoneyDesktop team, adding fuel to a company that already has great traction.
"I was impressed with the potency of MyJibe's team. They had accomplished, in software and business development, what most of our well-funded competitors were still working towards," commented Ryan Caldwell, CEO of MoneyDesktop. "MoneyDesktop has already established itself as a leader, but the synergies were so strong, and the economies of scale so great that through combined efforts I am confident we will accomplish our vision even faster and on a grander scale."
At the crux of the acquisition was a shared vision that PFM is a game-changing solution for financial institutions and online banking.
"So many financial institutions treat PFM as a 'check the box' add-on. It's not. As banking happens more online and less in the branch, PFM is critical to ensure banks and credit unions stay relevant to Gen X and Gen Y and can improve wallet share, stickiness, and top-line revenue," commented Mr. Langellier. "Ryan and the MoneyDesktop team share this vision, and through their growth, have asserted themselves as the leader in PFM for financial services."
With over 200 financial institution clients signed since its launch in October 2010, MoneyDesktop averages nearly 1 new client per business day. MoneyDesktop anticipates that the acquisition of MyJibe will further position MoneyDesktop as a leader and innovator in the PFM space.
About MoneyDesktop
MoneyDesktop is the fastest-growing PFM (personal financial management) solution for financial institutions. MoneyDesktop integrates directly into online banking platforms and helps banks and credit unions increase loan volume, attract new users, and stay ahead of the competition while enabling account holders to take control of their finances.
About MyJibe
MyJibe is a web-based budgeting, planning, and personal financial management platform. It is unique for its ability to connect a user real-time with a financial advisor and for its ability to calculate exactly how much a user can afford to spend while still paying bills and achieving savings goals. Previously at Experian, Indiana-based co-founders Mike Langellier and Brandon Dewitt combine deep experience in financial services and software development with a passion for great technology that enriches people's lives and their relationship with their financial institutions.
For more information, contact Nathan Gardner at 801.669.5534, email nathan.gardner(at)moneydesktop(dot)com or visit http://www.moneydesktop.com
###