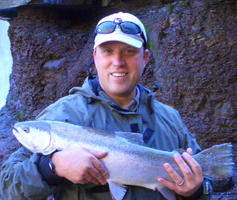 Let's Catch Fish!
(PRWEB) November 24, 2011
There is a new Fly Fishing Shop inside Bayside Boat & Tackle on 1350 Empire Boulevard, Penfield on the south shore of Irondequoit Bay.
Bayside Boat and Tackle owner Captain Ken Strimple (and guide services owner of Let's Catch Fish (LCF)) is pleased to announce the opening of a New Fly Fishing Shop, located inside Bayside Boat & Tackle. Stop in and check out the gear for anglers of all ages and skill levels.
Featuring fly fishing equipment that has been tested and recommended by their pro-staff.
Proven hand tied Flies that target salmon, steelhead, and giant brown trout, bass, pike and all the other game fish so popular in the area.
They stock a good selection of fly rods and reels, gear, waders, jackets, hats, gloves, and so much more.
Anglers can become a member of the "L.C.F FISHING CLUB" and receive a 10% discount on all bait, tackle, charter services and fishing boat or pontoon boat rentals all year round.
"We are determined to create a family experience like no other. Irondequoit Bay is an untapped resource for water sports," said Captain Ken. "The kids love it." Let's Catch Fish has classes on weekends to learn and experience techniques that will help any angler from beginner to pro catch more fish.
Customers may attend one of their Saturday seminars at the shop including:
Fly fishing lessons-beginner-intermediate and advanced classes
Fly tying classes
Group outings on local streams and rivers
Ice fishing rentals and classes
•Bayside provides fishing charters for the Northern Hemisphere's most amazing brown trout, steelhead and King Salmon. A trip of a life time (at local rates)
•See their Facebook page http://www.facebook.com/pages/Lets-Catch-Fish/190636278477
•Or their fishing website http://www.letscatchfish.net/ for more information
•The bait shop, boat rentals and tackle shop http://www.baysideboatandtackle.com/
No matter what time of year the Rochester region is a treasure for serious anglers.
Bayside has experts on staff to assist clients with selecting the right equipment, lures, bait and tackle for local fishing in any conditions. The region hosts some of the best fall/winter steelhead and brown trout fishing. Each year King salmon (Captain Ken has a secret sauce for eggs) are caught in the 35-40 plus pound range, as well there are good runs of Coho salmon. The winter fishing on the bay is great. Anglers catch large and smallmouth bass, big pike, perch and more. The remodeled store carries a full line of lures, live bait, fishing supplies and rentals; everything the avid angler needs for a day on the water (or ice).
Bay Side provides fishing charters on Lake Ontario, drift boat river trips up the Genesee River and guided trips (from Buffalo to the Salmon River) for Salmon, Steelhead and Brown Trout. Customers can join a Party boat for Bass, Walleye, Perch and Pike. Once the ice is firm Bayside will stay open to provide rentals for Ice Fishing.
LCF even has a condo on Lake Ontario by the Genesee River for out-of-town clients (Up to 4) to rent while on their expedition.
Members receive special pricing on everything in the store including charters and rental packages on boats.
"We have created a country club atmosphere for our members with a flat screen TV and wood burning stove to enjoy at our members only events," adds owner and Captain Ken Strimple.
Members of the Pro-staff specialize in fly, center-pin, spinning and noodle rod techniques and Bayside stocks all the equipment required to master these specialty techniques. If they don't have something in stock, they can and will get whatever shoppers are looking for with their buyers service.
Bayside is the Nissan and Tohatsu Dealer for the Rochester area for outboard motors, parts and repairs. Bayside can also shrink wrap boats, winterize motors and even can store boats on their premises.
Located conveniently on Irondequoit Bay at 1350 Empire Boulevard, Bayside Boat and Tackle shop is currently open:
Tuesday – Friday from 7 a.m. to 5 p.m.
Saturday 6 a.m. to 5 p.m. and
Sunday 6 a.m. to Noon
###