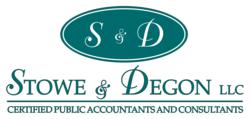 Westborough, MA (PRWEB) November 28, 2011
November: 2011 - Stowe & Degon LLC hosted a timely seminar and breakfast on how new tax legislation will impact and improve your business's bottom line featuring Dean Zerbe J.D., LL.M. National Managing Director of alliantgroup's Washington, D.C. Office.
Prior to joining alliantgroup in February, 2008, Dean was Senior Counsel and Tax Counsel to the U.S. Senate Committee on Finance, where he worked closely with the Chairman (and currently Ranking Member) of the Finance Committee, Senator Charles Grassley (R-IA) on tax legislation. During his time on the Finance Committee, Dean was intimately involved with almost every major piece of tax legislation that was signed into law – including the 2001 and 2003 tax reconciliation bills (representing two of the largest tax cuts in the nation's history); the JOBS bill in 2004 (corporate tax reform); and, the Pension Protection Act. Dean provided his insights about Washington legislation regarding tax reform and other topics.
Stowe & Degon LLC's strategic alliance with alliantgroup provides additional and powerful specialty tax service offerings allowing a business to reduce its pending tax liability and receive cash infusions from the government for past qualifying activities.
alliantgroup works with Stowe & Degon LLC and their clients to identify powerful, government-sponsored, cash-generating credits, incentives, and deductions, such as:

Federal and state R&D tax credits
Federal export incentives
Federal and state manufacturing incentives
State and local tax incentives
Sales & use tax reviews
Federal and state hiring credits & incentives
Energy-related tax incentives
Captive insurance companies
More than 7,000 other federal, state & local credits & incentives
About Stowe & Degon LLC
Stowe & Degon LLC provides audit services, tax advisory, business consulting and due diligence to publicly-listed, private, not-for-profit and employee benefit plan clients. The firm's experience spans a wide range of industries including manufacturing, technology, not-for-profit, healthcare, managed care, insurance and retail. Stowe & Degon is registered with the Commonwealth of Massachusetts Division of Professional Licensure in Public Accounting, the Public Company Accounting Oversight Board (PCAOB), the SEC Practice Section of the AICPA, the Employee Benefit Plan Audit Quality Center of the AICPA, and the Massachusetts Society of CPA's.
The firm is highly experienced in Generally Accepted Accounting Principles (GAAP), Generally Accepted Auditing Standards (GAAS), Governmental Auditing Standards (GAS), auditing standards issued by the United States Department of Labor and International Financial Reporting Standards (IFRS). The firm has also invested hundreds of hours in examining Sarbanes-Oxley (SOx) to assess its practical implications. For more information visit http://www.stowedegon.com.
If you'd like more information about this topic or to schedule a meeting with Michael Stowe and David Degon, please contact us at 508-983-6700.
###