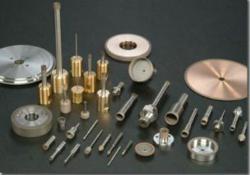 Dan is the type of team-member we feel like makes our company an industry leader
New Haven, Indiana (PRWEB) November 23, 2011
Diamond tool leader Continental Diamond believes in two simple keys to success: It's only as good as the tools like diamond grinding wheels it provides. And it's only as good as the people it hires to provide them.
So the company is proud to announce the welcome addition of Dan Kortenber to the CDT team. Kortenber joined Continental Diamond Tools in October after working with Creative Signs in Fort Wayne, Indiana. At Continental Diamond, he will head up the company's purchasing and procurement operations, as well as its returns department.
"Dan is the type of team-member we feel like makes our company an industry leader," says Nick Viggiano, Chief Operations Manager. "He's bursting with expertise and experience, and understands the nuances of what our customers and clients expect and need. Our products and our people are the soul of our company, so giving people like Dan oversight of our products is key. He'll play a critical role."
Kortenber will help the company maintain multiple aspects of its competitive edge: custom manufacturing capabilities, superior performance, quick delivery, and competitive pricing. To achieve these, CDT must be able to purchase and procure high-end materials such as superabrasives, resin bonds, and metal bonds, in order to produce a vast array of cutting-edge custom diamond tools, including:

Resin-bond products
Metal bond grinding tools
Grinding wheel dressers
Custom manufacturing also requires careful purchasing and procurement capabilities in order to maintain the flexibility needed to meet customers' exact, unique needs.
To learn more about Continental Diamond Tools, contact the company at (800) 443-6629 or visit its website at http://www.cdtusa.net.
About Continental Diamond Tools Corporation: Continental Diamond Tools has explored solutions in the superabrasives field for nearly four decades. It's commitment to technical innovation and customized solutions for their customers have allowed Continental Diamond Tool to excel in both standard and specialty diamond tooling.
###