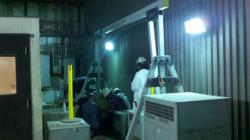 Fort Erie, Ontario, Canada (PRWEB) November 24, 2011
Allstate Crane Rental (http://www.allstatecranes.com) is the preferred supplier of crane services to the steel plant and knew that the job would require removal of part of the roof over the room where the transformer was located. Allstate had a better way and one not available to the other crane companies in the area. As eme's regional dealer Allstate has their state-of-the-art portable and lightweight aluminum gantry cranes available for its own use and for rental to the technical trades.
What would have been a long and expensive job was completed using Allstate's 4400T portable aluminum Gantry Crane in one hour. It was a simple matter of rolling the two legs and beam into the confined space, quickly assembling the gantry in the confined space over the transformer, removing the defective one out and moving in the replacement unit.
The time and dollar savings were tremendous. Instead of having to hire a mobile crane and personnel to remove and later replace the roof panels, lift out the defective transformer and install the replacement unit Allstate used their eme 4400T portable aluminum gantry crane and had the job done in one hour. The dollar savings for the customer were over $10,000.00 and any downtime was limited to the time needed to replace the defective transformer.
eme is a manufacturer of lightweight and portable aluminum maintenance lifting cranes for use in the water, wastewater, industrial and rental equipment markets. For further information contact eme or Allstate Crane Rentals.
###