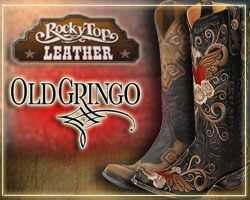 Pigeon Forge, Tennessee (PRWEB) November 23, 2011
Rocky Top Leather is dedicated to keeping their products new and fresh, and this is exactly why they have just added several new boots to their Old Gringo collection. The new boots consist of the Taka, Grace, Lil G, Milagros, and Marionne styles. Each one of these boots are gorgeous, and chances are you won't find them anywhere else, except for RockyTopLeather.com. They strive to keep their products exclusive and unique to any other boot retailer out there.
If you have never heard of Old Gringo boots before, then let us fill you in. All of the boots that Old Gringo creates are handcrafted by artisans who are some of the best in the industry. The styles they offer range from classic western looks, vintage cowboy, high-end fashion, and even something for the wild-side in you. Old Gringo began in the year 2000 by a couple of young fashion designers named Ernie Tarut and Yan Ferry. Ernie had been in the leather industry for over 30 years and Yan specialized in crafting amazing boots and had design ideas that were cutting edge. They came together because they quickly realized that if they combined their skills, they could create a style of boots that had never been seen before.
This is exactly why Rocky Top Leather loves Old Gringo and spends so much of their time focusing on carrying the newest Old Gringo boots that come on the market. RockyTopLeather.com has one of the biggest selections available, and the website is so user-friendly you can have a pair of these new Old Gringo boots within a couple clicks of the mouse. Your buying experience with Rocky Top Leather will have you coming back for more, that is a promise. Especially when you receive your Old Gringo boots at your doorstep and get to see them in person. The vivid colors and high-quality craftsmanship will have you instantly falling in love with them.
To find out more information on Old Gringo boots, or to see the whole collection of styles that Rocky Top Leather carries, visit RockyTopLeather.com.
###