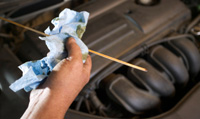 Wilmington, NC (PRWEB) November 29, 2011
When the weather turns colder and the snow starts flying, you don't want to have to worry about your vehicle being in top shape! To help you prepare for those harsh winter days and to ensure that your vehicle is running at it's peak performance, Rackley's Performance & Auto is pleased to offer low cost oil changes!
Starting at $19.95, Wilmington motorists can prepare for the winter by changing their oil. Typically, oil changes are recommended every 3,000 miles, but it may change depending on the model and year of the car. The experienced technicians and auto mechanics at Rackley's Performance & Auto can help you to figure out what will be most beneficial to your specific vehicle! However, changing the type of oil for the colder winter months is good practice for everyone.
David Rackley, ASE certified mechanic, has been running his independent auto performance shop for over twenty years. They offer auto inspection services, custom engine rebuilds and more. Located at 118 Middle Sound Loop in Wilmington, they pride themselves on their friendly, knowledgeable staff of technicians.
In addition to oil changes, changing your coolant is another good practice to get your car ready for the winter. Rackley's will also be offering a special discount for coolant changes for winter. Before you start tackling those icy winter roads, prepare your vehicle with a professional auto inspection and quality auto services at Rackley's Performance & Auto!
###