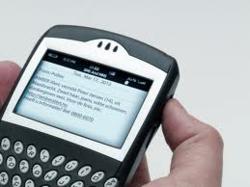 The first five white label resellers to join 20300 Virgin Vanity short code will be among the elite
St. Louis, MO (PRWEB) November 24, 2011
Anchor Mobile is announcing the activation of a new premium vanity short code for White Label Resellers. The Virgin Vanity Short Code 20300 is officially live with all major carriers with an aggregated Tier 1 connection.
NEW CONCEPT - 20300 is unique based on its limitation. As a limited shared short code, 20300 will only allow five White Label Resellers, which means each Reseller will then control up to 20 percent of the code's traffic. 20300 is currently waiting for its first subscribers and White Label Resellers are encouraged to act quickly. "We are expecting 20300 to fill up fast so White Label Resellers would be smart to sign up soon in order to have their pick of the keyword litter," says Anchor Mobile CEO, TJ Kirgin.
The price of 20300 will be available at a premium, however White Label Resellers will take comfort in knowing the price promotes exclusivity. With only four other clients utilizing the short code, the risk of 20300 being shut down or otherwise compromised by abuse is greatly diminished. There is even greater benefit in knowing that your competitors will not have access to the same shared short code as you.
"The first five White Label Resellers to join the 20300 Virgin Vanity short code will be among the elite," says Kirgin. He goes on to say, "Short codes are like a dictionary. Each word represents a database, and each of the five subscribers will have a much larger database of keywords to choose from as opposed to traditional shared short codes which can have tens of thousands or more subscribers making it difficult to market your white label to the best of its ability."
20 percent Vanity short codes such as 20300 are expected to help promote compliance, quality, and smart practice among its users in ways that short code providers have not been able to regulate before.
Anchor Mobile is a St. Louis, Missouri based SMS application provider, SMS aggregator, and short code hosting company. They currently manage a number of dedicated and shared short codes for clients and have been at the forefront of the SMS market since 2008.
Additional information about the premium Virgin Vanity short code 20300 can be found by contacting TJ Kirgin at 314-581-2408, e-mail at TJ(at)anchorstl(dot)com, or by visiting AnchorMobile.net.
Contact: TJ Kirgin
Tel. 636-946-9800 ext. 121
Toll Free: 1-800-984-4242
http://www.AnchorMobile.net
###