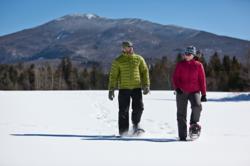 One of the few places that continues to host Olympic winter sports such as bobsledding, speed skating and ski jumping.
Lake Placid, NY (PRWEB) November 22, 2011
As the first snowfall blankets the Adirondack Region of New York, discover Lake Placid for a winter vacation filled with family fun, outdoor recreation, skiing and riding, historic Olympic sites and spa pampering. With many ways to experience the Adirondacks, it can be overwhelming to decide where to start. From early season, holiday travel and beyond, visitors can plan the ultimate getaway in Lake Placid with these trip ideas.
1. Whiteface Mountain: Enjoy skiing and riding down the greatest vertical drop east of the Rockies.

An expanded ski shop, 1,000 new pairs of rental skis at the rental center, new on-mountain dining options and widened trails are just a few reasons to visit in 2012. The mountain is set to open for the season on Nov. 25, 2011. Browse some of the early season Lake Placid ski package options available.
2. Off-mountain adventure: Ranked No. 1 by Ski Magazine readers for off-mountain activities this year for the 19th time, there are plenty of Lake Placid outdoor activities for visitors to enjoy this winter.

An exciting new way to experience Lake Placid is by Adirondack ice climbing. Similar to rock climbing, this challenging sport involves traversing ice-covered waterfalls and cliffs. Experienced Adirondack guides can help beginners try this newly popular extreme sport in the High Peaks around Lake Placid.
Snowshoeing, snowmobiling and cross-country skiing are other enjoyable ways to experience the beauty of the Adirondacks in Lake Placid this winter. It's free to hit the backcountry trails, making these activities fun and affordable alternatives for outdoor enthusiasts' winter break. Take part in the Cascade Cross Country Center's full moon events Jan. 7, Feb. 4, or March 10, 2012 for evening skiing and snowshoeing with bonfires, drinks, live music and lit trails for a new spin on these classic Lake Placid winter activities.
3. Family fun: An ideal mountain resort destination in the Northeast, the village boasts a number of Lake Placid events and activities that are family-friendly.

The Lake Placid Holiday Village Stroll will take place on Dec. 9-11 on Main Street in Lake Placid. Notably this year, the High Peaks Resort yule log hunt will return for the first time in 50 years. Kids can enjoy breakfast with Santa, Mr. Punch's Christmas Carol at The Lake Placid Center for the Arts, a free holiday skating party at the Olympic Center outdoor skating oval, a toboggan chute ride onto frozen Mirror Lake and much more to get in the holiday spirit.
Stars on Ice, presented by Smucker's, will be held in Lake Placid on Dec. 30 at 7:30 p.m. at the 1980 Rink in the Herb Brooks Arena of the Olympic Center. Tickets go on sale Nov. 5 to this world-class production of skating superstars.
4. Lake Placid events: Lake Placid has held a place on the world's competitive winter sports stage since the 1920s when resident speed skater Charles Jewtraw won the first gold medal at the first Olympic Winter Games in 1924. Lake Placid went on to host the 1932 and 1980 Games, and remains one of the few places that continues to host Olympic winter sports such as bobsledding, speed skating and ski jumping.

The Lake Placid FIS Freestyle Cup will take place at the Olympic Jumping Complex Jan. 19-21, 2012. Be amazed by high-flying aerial tricks performed by men and women of the U.S. Ski Team.
Celebrating its 30th anniversary in 2012, the Lake Placid Loppet 50km, 25km and .5 km kid's ski race will take place at the Olympic Sports Complex from Feb. 3-4, 2012.
The Bobsled and Skeleton World Championships will take place at the Olympic Sports Complex from Feb. 16-26, 2012. New this year, night runs will take place from 5 p.m. to 8 p.m. for added excitement.
5. Spa and wellness: Singles and couples can take advantage of Lake Placid spa and salon offerings to rest and recharge for 2012 in the peace of the Adirondacks.

Spa treatments such as the "ultimate pampering package" at The Spa at the Mirror Lake Inn and the "maple butter body wrap" at The Spa at the Whiteface Lodge are just a few ways to unwind.
From the holiday season through spring 2012, it's easy to invent your own perfect day in Lake Placid this winter with any or all of these activities and events.
About Lake Placid
Lake Placid is a four-season destination, offering diverse experiences, outdoor adventures, unique events and an ever-changing backdrop to complement your favorite activities. Enjoy the natural beauty, and embrace the timeless atmosphere in the heart of the Adirondacks.
For more information, visit http://www.lakeplacid.com.
###