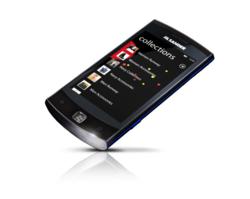 The Jil Sander phone is a fantastic way for fashionistas to stand out in the smartphone crowd.
(PRWEB UK) 23 November 2011
Jil Sander's Autumn 2011 collection includes a surprising departure from the norm for the legendary German design house, their first mobile phone. Exclusively available in the UK with Expansys.com, the online technology specialist, the Jil Sander mobile is available now.
Joining the growing list of designer brands to release a handset, Jil Sander has brought its chic looks to the smartphone market. The design house have partnered with LG and Microsoft to produce a phone that offers both style and functionality. Based on the popular Optimus 7 handset, the phone has a number of specification and stylistic upgrades, including a signature blue strip down both sides.
The clean lines of Windows Phone 7's tiled user interface is the embodiment of Jil Sander's understated, minimalist designs within a phone displat. And with the latest version of the software installed, nicknamed the Mango update, the Jil Sander mobile not only looks fashionably good, it delivers a superb smartphone performance with Microsoft Office software, deep Facebook and Twitter integration and even XBox Live gaming.
"We're delighted to be able to offer our customers, and fans of the label across Europe, the chance to carry some of the famous Jil Sander design everywhere they go" commented Anthony Catterson, CEO of Expansys. "Aficionados of Jil Sander will love how this phone looks, and how it suits a modern, social lifestyle."
"The gorgeous Windows Phone 7 menus exemplify the Sander ethos perfectly and also make it a great phone for communicating and working. It's a fantastic way for fashionistas to stand out in the smartphone crowd."
The Jil Sander mobile costs £299, and the sleek package also includes a Jil Sander leather case and some custom blue and black-headphones that compliment the phone's design, perfect for communicating in style.
About Expansys.com:
Expansys is the only truly global online retailer for consumer mobile technology, and wants to become the preferred choice for customers worldwide. Believing that technology can change your life, Expansys' teams discover, review and sell the latest and hottest products, such as phones, tablets and laptops, from all the world's leading technology manufacturers across 60 international sites in 16 languages.
# # #