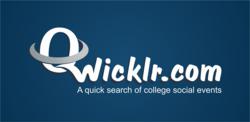 Perhaps the top use of Qwicklr is to easily scan the week ahead in a website format uniquely dedicated to just that one thing
Richmond, VA (PRWEB) November 28, 2011
In the latest indication that the Internet continues to inspire creative social uses, a Virginia college student has unveiled Qwicklr—a new website dedicated entirely to publicizing upcoming social events on college and university campuses.
Qwicklr is designed to allow college students everywhere to easily find or post details of rush events, parties, sports gatherings, concerts—basically anything college students typically gather for.
"Perhaps the top use of Qwicklr is to easily scan the week ahead in a website format uniquely dedicated to just that one thing," says Sam. "We designed 'the Q' as the ultimate Internet platform for spreading the word—about college social events, meetings and parties. Right now we're focused solely on the fun of creatively presenting the dates, details and venues our rapidly growing user base is posting."
Starting with their own alma mater, Virginia Commonwealth University, student contributors have rapidly added schools up and down the East Coast and beyond.
A key feature of the website is its ability to instantly display all events posted to specific colleges—in an easy to read format. Use of the social media website is free and will continue to be both cost-free and easy for its users, adds Preston.
As with other social media startups the hunt for revenues to ensure future viability has been put off until later. Sam thinks revenue generation could eventually include the use of targeted ads such as those featured on other social media websites like Twitter and Facebook, along with coupons for age specific products or services.
For more information on Qwicklr visit the website at http://www.Qwicklr.com or email them at service(at)qwicklr(dot)com. They can also be found at Facebook.com/Qwicklr.
###