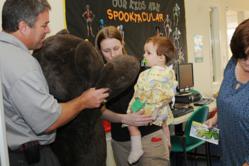 Houston, Texas (PRWEB) November 24, 2011
In his yearly planning, successful entrepreneur and savvy businessman Warren Barhorst always builds in time and money to give back. He may own the biggest Nationwide Insurance agency in the U.S. and have a calendar that is perpetually booked solid, but when there's a need, a good cause, a helping hand required, Barhorst is there. And he's adamant that the culture of his company, and his employees, focus on a commitment to serving those in need.
Throughout the past year, Barhorst Insurance Group (BIG) has led its support to local fundraisers that benefited many organizations, including: 12th Man Foundation; 12th Man Kickoff Team Foundation; AVANCE; Be an Angel; CBA Foundation; Emergency Aid Coalition; Generation One Academy; Highland Park ISD teachers; Interfaith Housing Coalition; Literacy Advance of Houston; National Multiple Sclerosis Society; Perfect Jumper; Periwinkle Foundation; Ronald McDonald House of Dallas.
BIG is adding a new cause to its list: the Layla Grace Children's Cancer Research Foundation. Partnering with Nationwide Insurance, the company will be a sponsor of the First Annual Layla Grace 5K Run and 1-Mile Fun Run to be held on December 3 at the Berry Center in Cypress, Texas.
In addition to the run, the Foundation is teaming up with the Cy-Fair Holiday & Health Festival for an exciting holiday event and fundraiser that will begin after the race concludes. BIG will host a table, giveaways, and a drawing at the race "After Party". As part of the Festival, there will be food and drink, a Children's play area, photos with Santa Claus, and much, much more.
This event honors and benefits the Layla Grace Children's Cancer Research Foundation. The Foundation was formed in April of 2010 after the passing of two-year-old Cypress toddler, Layla Grace Marsh from Neuroblastoma. The Foundation's mission is to raise funds for research into high-risk pediatric cancers and to empower the families currently undergoing the battle. For more information, please visit http://www.laylagrace.org.
Race registration is still open for all ages
The Barhorst Insurance Group (BIG) was founded in 1993 as a Nationwide Insurance agency and today is a captive hybrid agency representing more than 50 insurance carriers. In 18 years, the company has grown to more than 100 employees and over 30 locations in Texas.
BIG provides a full range of insurance and financial services for families and businesses, including: auto, motorcycle, boat, homeowners, life, farm, flood, commercial, Texas Workers Compensation, administrative services, annuities, mortgages, mutual funds, pensions, long-term savings plans and health and productivity services.
For more information, call 713.856.5533 or visit big-usa.com.
###