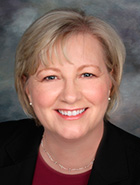 Angela has been a tireless and committed advocate for developing products and services that add more value to membership.
Los Alamitos, California (PRWEB) November 23, 2011
IEEE Computer Society Executive Director Angela R. Burgess has been presented with the 2011 IEEE Eric Herz Outstanding Staff Member Award for five years of outstanding leadership of the world's leading organization for computing professionals. Burgess has been instrumental in transitioning the organization's 27 print publications to online formats and incorporating social media programs.
IEEE Executive Director James Prendergast presented Burgess with the award at a ceremony last week in Brunswick, New Jersey.
In the five years since Burgess was appointed to lead the Computer Society, the organization has undergone a swift transformation accompanied by the introduction of a compelling roster of new products and services designed to better meet the needs of today's computing professionals.
Among the initiatives launched since Burgess became executive director:

Computing Now, a one-stop source for free, limited-time access to articles from the IEEE Computer Society's peer-reviewed magazines, journals, and conference proceedings;
Build Your Career, a career-development site to guide technology professionals in finding jobs and in advancing, or transitioning to new careers;
The Corporate Affiliate Program, which gives companies access to Computer Society education and training resources such as online courses, exams, newsletters, and webinars;
A webinar program that offers companies an affordable and effective means of meeting employees' career-development and training needs and requirements;
Software development certifications for both entry-level and mid-level developers;
Relaunch of the Computer Society website and store; and
Launch of new models for publications delivery, including ePubs, OnlinePlus, and Digital Computer.
Burgess has led the Computer Society during a time when the organization's 27 print magazines and journals are transitioning to online formats and members desire fresh ways to interact with the organization, including through social media, blogs, podcasts, and online communities.
"Angela has been a tireless and committed advocate for developing products and services that add more value to membership," said Sorel Reisman, 2011 IEEE Computer Society president. "We are living in a time when technology is informing all aspects of our lives. Under Angela's direction, the Computer Society has made tremendous gains in expanding its current offerings, launching new benefits, and forging ahead with planning on future initiatives reflecting how computing professionals make use of current technologies."
Burgess, an IEEE employee for 25 years, was recognized "for outstanding leadership in improving IEEE Computer Society cooperation and reintegration with IEEE and (the Technical Activities Board) and successfully transforming operations, improving the financial strength of the Society."
Prior to being named executive director, Burgess served as publisher for six years. She holds a bachelor of science degree from Iowa State University and an executive master of business administration (MBA) from the Peter F. Drucker School of Management, Claremont Graduate University.
Named in honor of longtime IEEE staff member and volunteer Eric Herz, the award was created in 2005 to recognize staff or volunteers who make a sustained contribution to IEEE. Herz served volunteer positions on the Sections and Board of Directors level, as well as general manager and executive director.
The IEEE Awards Board evaluates nominees' impact on IEEE's goals and objectives and success of a number of IEEE initiatives, as well as leadership in staff activities.
Herz Award winners must be present or former full-time IEEE staff members with at least 10 years of service who have demonstrated contributions over a long period of time. The award consists of a certificate, honorarium, and travel expenses to attend the award presentation.
About the IEEE Computer Society
With nearly 85,000 members, the IEEE Computer Society is the world's leading organization of computing professionals. Founded in 1946, and the largest of the IEEE's 38, the Computer Society is dedicated to advancing the theory and application of computer and information-processing technology, and is known globally for its computing standards activities. For more information, go to http://www.computer.org.
###