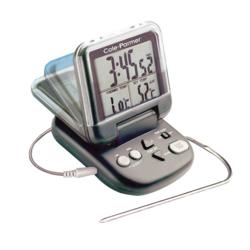 Vernon Hills, IL (PRWEB) November 22, 2011
During the holiday season, food preparers are warned early and often about safely cooking their feasts to prevent foodborne illnesses. Yet, the FDA acknowledges that holiday food preparation still gets rather sloppy. From garnishes to stuffing to pies, improperly handled food can transmit disease-causing organisms with symptoms appearing within a few hours up to as long as 28 days later. A major culprit can be mishandled or undercooked meat. With the volume of turkey, ham, duck, and other meat dishes on the menu throughout the season, safe preparation is essential for avoiding less-than-happy holidays.
Cole-Parmer offers several options to ensure safe temperatures of food, especially meat. The Taylor® Food Service Thermometers determine if the correct food temperature has been met and maintained. The Cole-Parmer® Stainless Steel Pocket Thermometers offer easy-read dials. NSF-Approved Digital Pocket Thermometers deliver a quick response (about 30 seconds) for most readings and a digital reading. The Cole-Parmer® Thermometer with Alarm/Timer (shown) allows users to view temperature, time, and set point simultaneously and also accurately program the alarm for easy use. Each of the models contains probes to penetrate dense meat surfaces.
For more information on this selection, call 800-323-4340 or visit ColeParmer.com/18918.
Cole-Parmer has been a leading global source of laboratory and industrial fluid handling products, instrumentation, equipment, and supplies since 1955. Our product lines, including popular brand names such as Masterflex®, Oakton®, and more, are sold through company-owned customer channel outlets and a strong network of international dealers. We also feature an ISO-17025-accredited metrology lab for instrument calibration and repair. Cole-Parmer responds with excellence to customer needs, and offers application expertise and technical support. For more information, contact Cole-Parmer, 625 East Bunker Court, Vernon Hills, IL 60061. In the US, call 800-323-4340. International customers, call 847-549-7600. Visit us at http://www.coleparmer.com.
###