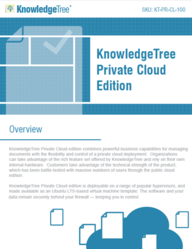 Raleigh, NC (PRWEB) November 28, 2011
Today KnowledgeTree announced the availability of the Private Cloud edition of its Document Management tools. This new technology allows companies to choose the deployment model that makes sense for their organization: software-as-a-service in a secure public cloud or on-premise in a virtualized, private cloud environment.
The new Private Cloud edition answers that challenge by leveraging the proven tools in KnowledgeTree's software-as-a-service Public Cloud edition. Customers gain:

Enterprise-class tools that let users organize, manage, and collaborate on business documents. KnowledgeTree customers save thousands of dollars per employee by boosting productivity around document-led processes.
Easy deployment that lets companies launch a SaaS account instantly, or get a private cloud implementation running in hours, not weeks – no developers required.
Rich tools that let users access, synchronize, and manage documents from the desktop and within Microsoft Office and Outlook. That means users can control documents from the browser or business productivity tools that they use every day.
Low operational expenses for hardware due to the virtualized deployment model. Customers receive a scalable architecture installable on their own infrastructure.
"Organizations need to control their business documents, but today's other options aren't good enough," said Daniel Chalef, KnowledgeTree's CEO. "Companies need business-class tools and the flexibility to manage documents in a private or public cloud; from their desktop, in Microsoft Office, or on their mobile device. KnowledgeTree's flexible options provide a 'total' cloud solution."
Test-drive KnowledgeTree Public Cloud edition free for 14-days to experience the functionality or access the datasheet.
About KnowledgeTree
KnowledgeTree makes documents matter. Orbitz, Miramax, Alcatel / Genesys, Fuji Chemical, and hundreds of other companies use KnowledgeTree to drive productivity by working smarter with documents in a public or private cloud. KnowledgeTree helps legal, finance, HR, and sales teams easily develop and execute business processes around documents, and drive productivity and actionable insight. KnowledgeTree is headquartered in Raleigh, NC. Find out why Network World called KnowledgeTree one of the 10 SaaS companies to watch. Visit http://www.knowledgetree.com for more information and to download the complimentary eBook.
Tweetables
Manage business documents in the private or public cloud, try for free http://bit.ly/vAIjP6
Stop the complexity of on-premise document management. KnowledgeTree Private Cloud http://bit.ly/vAIjP6
Additional Information
KnowledgeTree Private Cloud edition combines powerful business capabilities for managing documents with the flexibility and control of a private cloud deployment. Organizations can take advantage of the rich feature set offered by KnowledgeTree and rely on their own internal hardware. Customers take advantage of the technical strength of the product, which has been battle-tested with massive numbers of users through the public cloud edition.
KnowledgeTree Private Cloud edition is deployable on a range of popular hypervisors, and made available as an Ubuntu LTS-based virtual machine template. The software and data remain securely behind the firewall — keeping the user in control.
KnowledgeTree helps users work smarter with business documents. Every time they look for, share, or manage a document KnowledgeTree makes their team more efficient. The private cloud edition provides secure, browser-based access to the KnowledgeTree technology on your infrastructure. The product delivers value in five key areas:
Smart Tools manage documents the way you do business.
Smart Insights discover valuable documents and efficiencies.
Smart Teams boost user engagement and document quality.
Smart Integrations access and manage documents anywhere.
Smart Value for IT makes security and technical management a snap.
###