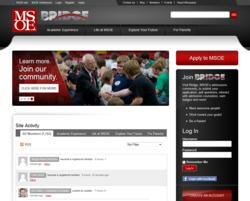 "The MSOE Bridge is a unique program that I have just used for about a week and I have already grown to love it," said Gerald Soriano, a student at Waipahu High School in Hawaii.
Milwaukee, Wis. (PRWEB) November 28, 2011
Milwaukee School of Engineering (MSOE) has taken the college admission process to the next level by launching Bridge, a dynamic social community platform. The university partnered with 7Summits to develop the online community where prospective students, parents and admission counselors can interact.
MSOE is taking advantage of students' desire to communicate through social media. More than 1,500 prospective students signed on to Bridge in its first month. They've created accounts and quickly become "friends" with each other, MSOE admission counselors, faculty members and current MSOE students.
Conversations are happening 24/7, and high schoolers are finding that Bridge is the go-to place if they want to become an MSOE Raider. Community members are engaging in talks about life at MSOE and the different majors available, and even general topics such as their favorite gadget. Hundreds of private groups have been created between admission counselors and prospective students, making it easy for students to ask personal questions relating to their own situation.
"The MSOE Bridge is a unique program that I have just used for about a week and I have already grown to love it," said Gerald Soriano, a student at Waipahu High School in Hawaii. "It helps me to connect with college students and college staff/faculty. I am just a junior in high school and this Bridge program provides me with early college preparatory skills!"
Bridge also has an application form that is integrated with MSOE's admission system. It includes an online progress tracker which makes it easy for students to monitor their application and admission progress.
"In the past few years it has become increasingly difficult to reach high school students through traditional methods like the phone, mail and email," said Tim Valley, vice president of enrollment management. "Our admission counselors and I decided we wanted to meet students where they are comfortable—in an online community."
"The college search for students is about two things, 'Do you have the major I am looking for?' and 'Will I fit in?' Prospective students can use Bridge to find others like them and realize that MSOE is the university of their dreams," said Dana Grennier, director of admission.
MSOE faculty members also have joined the conversation. Dr. Frederick Berry, MSOE vice president of academics, is an active member of the community. "The response from prospective students and parents has been phenomenal," said Berry. "We can now interact with them in real-time."
It's easy to access the Bridge by visiting http://admissions.msoe.edu. Users can create their own login, or simply log in with their Facebook credentials.
About MSOE
MSOE is an independent university with about 2,500 students. MSOE offers 18 bachelor's degrees and 10 master's degrees in the engineering, engineering technology, building and infrastructure engineering, health-related engineering, computer, business and nursing fields. The university has a national academic reputation; longstanding ties to business and industry; dedicated professors with real-world experience; and extremely high placement rates and the highest starting salaries of any Wisconsin university according to PayScale Inc. MSOE graduates are well-rounded, technologically experienced and highly productive professionals and leaders.
###