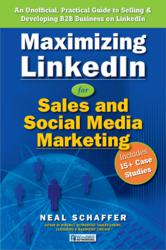 Schaffer is a digital pioneer in teasing out the incredible potential of LinkedIn for social business opportunities
Irvine, California (PRWEB) November 29, 2011
Windmills Marketing is pleased to report on early successes of it's new book Maximizing LinkedIn for Sales and Social Media Marketing, the sophomore offering from distinguished global and social media strategist, Neal Schaffer.
With its print release in July 2011 and ebook release on Kindle, Nook, and iTunes shortly thereafter, his new book is resonating with business people, worldwide, looking to parlay Schaffer's years of accumulated international sales and marketing acumen, plus in-person and online connections, into measurable business returns now and in future. Effectively using LinkedIn, one of the world's most respected and established social media platforms, for business development is the book's primary focus. Demonstrating its own business expertise, LinkedIn had a successful IPO earlier this year.
Schaffer is a digital pioneer in teasing out the incredible potential of LinkedIn for social business opportunities, beyond those seeking employment. This information-packed and engaging book shows organizations how to do this with straight-forward guidance and do-able advice rather than empty rhetoric.
Global and social bookends
His second book being embraced by a global audience is a gratifying outcome for American-born Schaffer, who lived and worked in Japan for 15 years, returning with his family to California in 2005. "One of the great things about offering an ebook through iTunes is the way you can track sales by country," indicates Schaffer. "Although the most ebooks to date have been sold in the USA (48%), significant numbers have been sold in the UK (18%), Canada (16%), Australia (14%) and, for some reason, in The Netherlands (4%). This means 52 percent of iTunes sales currently are coming from other parts of the world."
In some ways this isn't surprising, as Maximizing LinkedIn for Sales and Social Media Marketing features contributions from more than 15 business owners and professionals in the form of international case studies (including Australia, Belgium, Canada, China and France), a result of Schaffer's steadily increasing social and in-person networking connections, which is nearing six figures.
After working in several countries (including Japan, China, and Singapore) and gaining international business experience, Schaffer determined a diversity of voices for global-local context, plus highlighting the successes of others, better served the education needs of his associates—especially considering his respect for and working knowledge of the worldwide potential of social business.
LinkedIn itself being an international phenomenon complements this rationale, making its business platform an ideal focal point in this second book. An exciting development for Schaffer is that LinkedIn recently launched its service in his second home, Japan.
Do-able current and future-focused social business advice
Maximizing LinkedIn for Sales and Social Media Marketing comprises 14 chapters and two appendices (resources and additional case studies). Chapters cover areas such as:

The LinkedIn Mindset
Why Every Business Needs to be on LinkedIn
Get Your LinkedIn Profile in Order
Re-establishing Your Business Outpost on LinkedIn Companies
Developing a Targeted Community of Professionals through LinkedIn Groups
Ways to Engage on LinkedIn
Business Intelligence from the Professional Graph
Advice on Prospecting on LinkedIn
Obtaining Thought Leadership and Gaining Mindshare on LinkedIn
Using LinkedIn for Social Media Optimization
Paid Media on LinkedIn
Your Daily LinkedIn Routine and ROI
As successful as ebook sales have been, partly due to his free value-add online properties and global profile (i.e., LinkedIn account and Group, multi-sector blog and Twitter account), the earlier-released print version remains the retail leader. Notable are the number of purchases after related presentations by this sought-after speaker, as business people from across North America sensibly are convinced to put Schaffer's case-studies-informed LinkedIn social business counsel to work—immediately.
Those who can, do. Those who can't, teach.
Unless you are Neal Schaffer: he does both, by sharing professional experience in a practical and engaging book on social business.
Access reviews of Maximizing LinkedIn for Sales and Social Media Marketing.
A copy of the book may be requested prior to scheduling an interview. Alternatively, download a sample of the book.
About Neal Schaffer
Neal Schaffer is a leader in helping businesses develop strategies in maximizing returns on investment from social business. A frequent speaker about social media, he has been recruited as a subject expert by the ABC and CBS TV networks and quoted in the Wall Street Journal, Bloomberg Business Week, Yahoo! and the American Express Open Forum. Schaffer's social media strategy consulting achievements include a Fortune 500 company and a celebrity with nearly one million social media fans. Neal Schaffer is currently senior vice president of social media strategy for Social 5150, a social media agency in Laguna Beach, California, as well as vice president of social media strategy for Green Dream Social, an agency targeting Mexico and Spanish-speaking communities, in Calabasas, California. Find out more about Neal Schaffer at http://windmillnetworking.com.
The publication of Maximizing LinkedIn for Sales and Social Media Marketing follows the success of his first book, Windmill Networking: Understanding, Leveraging and Maximizing LinkedIn, which received multiple industry awards and continues to be a best-selling book in its genre.
Schaffer is a graduate of Amherst College and is fluent in Japanese and Mandarin Chinese.
###