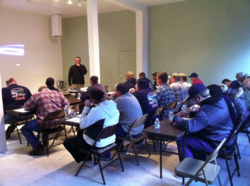 Dunsmuir, CA (PRWEB) November 23, 2011
FireWhat, a complete online firefighter training and information resource, lists three major points for firefighters to follow to start next year in the best possible condition, physically and mentally.
The 2011 fire season is drawing to a close, and thousands of seasonal firefighters are being laid off. While this happens every year, those that train hard, stay in shape, and improve their education come back ready to battle next year's blazes. The past three years have been relatively quiet fire years, which means only one thing: The big one is coming.
1: Read the News. Stay on top of new developments and current events in the industry. Firefighting has evolved over the past two hundred and fifty years, there is no reason this will discontinue. Regularly reading firefighter news will create a valuable, continuous learning experience through the winter.
2: Stay in Shape. More firefighter injuries occur from poor health or conditioning. Fatigue, dehydration, a sudden increase in workload, can leave out of shape firefighters on the side, while their crew members take up their slack. Begin a conditioning program early, and stick with it, increasing slightly as the season draws near. Both aerobic and weight lifting should be included in any firefighter training program. Don't overdo it, stay hydrated while working out, and be sure to stretch regularly.
3: Train, train, train. Take as many firefighter classes as possible. Be sure classes are taken from a qualified certification program. Medical training especially helps. Better yet, get on the job training through winter employment, such as ski patrol, where medical incidents regularly occur. Ski patrol is also a great way to stay in shape through the winter, killing two birds with one stone.
Thousands of firefighters will be taking the winter off. FireWhat asks these brave men and women to please, enjoy your down time, it is certainly earned, but don't forget about next year.
About FireWhat Inc.
FireWhat Inc. is a start-up company founded by an MIT grad and two professional firefighters. FireWhat's mission is to provide a professional platform that inspires the highest quality of emergency service training and education. Through development of web and mobile products, FireWhat Inc. seeks to update the antiquated delivery of emergency services training and to incorporate innovation into a technology-deprived industry.
###