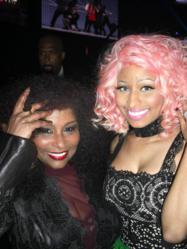 I have so many things planned for 2012 and cannot wait to share these exciting projects with my fans! Stay tuned!
Hollywood, California (PRWEB) November 22, 2011
Chaka Khan, the legendary funk/pop/soulstress and 10 time Grammy award winning singer and songwriter attended the 2011 American Music Awards. The American Music Awards was held at the Nokia Theater in Los Angeles on Sunday, November 20th, 2011. Chaka also attended the Fiat Presents Jennifer Lopez's Official American Music Awards After Party at Greystone Manor Supper club.
Others in attendance of The American Music Awards were Nicki Minaj, Bruno Mars, Jennifer Lopez, Taylor Swift, Justin Bieber, Selena Gomez, Chris Brown, and Drake among others.
"This was one of the best award shows I've been to in quite sometime. I was especially thrilled to see so many women dominate and win the musical categories," said Chaka Khan. "I ran into so many of my colleagues like Mary J. Blige and Jennifer Lopez and met so many up and coming young stars such as Nicki Minaj and Will.I.Am. These young stars like Bruno Mars, Taylor Swift and Katy Perry are not only the future of the music industry, but good and solid role models for young artists breaking into the business."
"2011 was such a blessing for me. I toured with Prince, received an honor at the Hollywood Walk of Fame, performed in Brazil, honored my good friend Aretha Franklin, and soon I will be performing at the VH1 Celebrates Soul program with my friends Mary J. Blige, Kelly Clarkson, Florence + The Machine, Jennifer Hudson, Jill Scott and many other wonderful performers." Said Chaka Khan. "I have so many things planned for 2012 and cannot wait to share these exciting projects with my fans! Stay tuned!"
About Chaka Khan
Iconic singer, songwriter and philanthropist Chaka Khan gained fame in the seventies as the front woman and focal point of the funk band Rufus. While still a member of the group, Khan embarked on a successful solo career. Her signature hits include "Tell Me Something Good", "Sweet Thing", "Ain't Nobody", "I'm Every Woman", "I Feel for You" and "Through the Fire". Chaka Khan was awarded the B.E.T. Lifetime Achievement Award, The UNICEF Award of Excellence, 10 Grammy Awards, and has received a combination of 26 Grammy & American Music Award nominations.
Ever the philanthropist, Chaka Khan created a charity called the Chaka Khan Foundation. The Chaka Khan Foundation educates, inspires and empowers children in the community to achieve their full potential via different initiatives such as the Chaka Believes Program and the Chaka Supports Autism Initiative. For more information, please visit http://www.chakakhanfoundation.org
In 2011, world renown superstar Prince along with Chaka Khan kicked off the Welcome 2 America Twenty One Nite Stand residency at the Forum on April 14, 2011. Chaka was also honored with a star on the Hollywood Walk of Fame. On December 19 at 9 p.m. ET/ 8 CT, Chaka Khan is set to perform on VH1 DIVAS Celebrates Soul. Other guests include legends like Mary J. Blige, Jennifer Hudson, Jill Scott, Florence + The Machine, Kelly Clarkson Jessie J, Erykah Badu, Sharon Jones & The Dap-Kings, Boyz II Men, Estelle, Marsha Ambrosius and Travie McCoy. Rufus with Chaka Khan are also nominees for the 2012 Rock and Roll Hall of Fame.
Chaka Khan resides in Los Angeles and is mother of 2 children and grandmother of two. For more information about Chaka Khan, please visit: http://www.chakakhan.com
Source: Raffles Entertainment
###