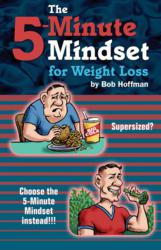 Taking just a few minutes a day to make sure you have the right mindset in place makes a huge difference in the quality of your life
Sandy, Utah (PRWEB) November 30, 2011
Many involved in the weight loss industry focus on diet and exercise. While these are fundamental to the process, this new book suggests that the key to weight loss success is developing and maintaining the right mindset.
Readers will learn how developing the right mindset can help them lose weight and keep it off. "The 5-Minute Mindset for Weight Loss" answers this and other questions.
By learning and applying the nine steps taught in this book, many have successfully changed their eating and exercise habits. With the right mindset in place, they found themselves on the path to a healthier and happier lifestyle.
According to Bob Hoffman, author of the book, "Learning and using these powerful principles, strengthens an individual's resolve and shortens the time it takes to form new habits. This empowers him to change his life in meaningful and significant ways. The 5-Minute Mindset is one of the easiest and most reliable systems for weight loss even if someone hates dieting and exercise."
Bob knows what it is like to be overweight and struggled with the problem for over thirty years. When he finally decided that weight loss was a priority in his life, he changed his mindset so powerfully that he took action and lost 73 pounds in five months. This was accomplished without pills, fads, crash diets, or other artificial means for losing weight. Two years later, the weight is still off.
The book gives the reader a proven method for developing and maintaining the right mindset for weight loss, and perhaps best of all, it only takes 5-minutes a day. You will find the book in print and e-book format at: amazon.com, barnesandnoble.com and the5-minutemindset.com
Full Contact Information:
Bob Hoffman
Phone: 801-580-8378 E-mail: bob(at)bobsold(dot)com
The 5-Minute Mindset Web URL: the5-minutemindset.com
730 East New England Drive
Sandy, Utah 84094
###