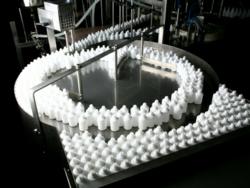 Cary, NC (PRWEB) November 23, 2011
GMP compliance is highly regulated in some regions and practically non-existent in other regions. While the WHO has issued standards for international harmonization of GMPs, implementation can be complicated and expensive. The InstantGMP web page, "What is GMP?" is devoted to publishing research on how GMPs are implemented, monitored and practiced in various geographical locations. This includes discussions on pharmaceutical manufacturing in China and India, two hot topics in the GMP compliance debate.
InstantGMP™ is a subsidiary of PharmaDirections, a pharmaceutical consulting and project management company, who developed the electronic manufacturing system to address many of the issues associated with contract manufacturing and adhering to regulatory requirements.
"We have always focused on solving problems in pharmaceutical development, especially in manufacturing. Our primary goal is to make GMP compliance easier, whether it's using our electronic manufacturing system or our free online resources" said Dr. Richard Soltero, President of PharmaDirections. "We constantly explore ways to enhance the quality and operating procedures of our system. Now this research is available through the "What is GMP" portion of our website."
Anyone can visit the "What is GMP" page at the InstantGMP Resource Center to access articles on GMP regulations in different regions of the world. The intent of this center is to increase understanding of the different regulations around the world and improve the overall quality of contract pharmaceutical manufacturing.
About InstantGMP
InstantGMP™ is a wholly owned subsidiary of PharmaDirections and is the only electronic manufacturing software that has GMP requirements "hard coded" into the software. By building regulatory requirements into the software compliance and quality are increased. The electronic system is built for worldwide collaborations with secure access from anywhere an internet connection is available. InstantGMP enables both the sponsor and contract manufacturing organization to have increased visibility and control over contract pharmaceutical manufacturing.
About PharmaDirections
PharmaDirections is a pharmaceutical consulting and project management company that focuses on solving problems in drug development. The main areas of practice include CMC, preclinical, and regulatory guidance with exceptional experience in formulation development and manufacturing. Providing services from technical advice to a total R&D team for hire, the overall advantage is that PharmaDirections' clients maintain a lean organization while still achieving the highest scientific standards possible in developing viable pharmaceutical products.
###