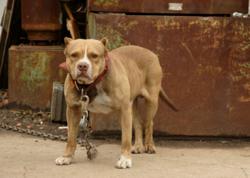 The dog bite to this child's head was extremely severe. The attack was completely unprovoked. Our thoughts and prayers are with our young client and his family.
Fort Lauderdale, FL (PRWEB) November 24, 2011
The Fort Lauderdale personal injury law firm of Citron & Bloom was recently retained by a Palm Beach family after their two (2) year old son was allegedly mauled in the head by a neighbor's pit bull. "The alleged attack is said to have taken place outside of the child's home and was completely unprovoked," said Howard Citron, founding partner of the firm. The paramedics were called to administer immediate medical attention to the child. He was rushed to St. Mary's Medical Center for emergency surgery to repair the deep lacerations to his head. Animal control also responded and quarantined the animal to confirm that it was not a carrier for rabies. Since the attack, the subject pit bull was euthanized. "It is our hope that the party at fault has a homeowner's insurance policy that will cover this loss," said Citron, "since it is unknown how much future medical care this child will need to repair the injuries to his head and scalp." "We are honored to represent this family and are committed to exhaust all available avenues of liability and recovery in order to collect damages for the injuries this innocent child suffered," added Citron. The Palm Beach County Animal Control case number currently pending in Palm Beach County, Florida is A11-017199.
Schedule an Interview: Attorney Howard Citron is available to discuss this case. He can be reached at 954-205-0333.
About Citron & Bloom, L.L.C.
The Fort Lauderdale personal injury lawyers at Citron & Bloom, with offices in Coral Springs and Weston, prosecute cases for victims of car accidents, truck accidents, motorcycle accidents, slip and falls, dog bites, medical malpractice and nursing home abuse. Accident and injury victims across Broward County including Coconut Creek, Cooper City, Coral Springs, Dania, Davie, Deerfield Beach, Fort Lauderdale, Hallandale, Hollywood, Lauderdale Lakes, Lauderhill, Lighthouse Point, Margate, Miramar, Oakland Park, Parkland, Pembroke Pines, Plantation, Pompano, Sunrise, Tamarac, Weston and Wilton Manors can set up a free consultation with the lawyers at our firm.
For more information regarding this case, please contact the firm toll free at (877) 550-4529.
###