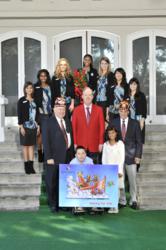 We are proud to be associated with an organization that shares our belief in the power of the human spirit, and to have this opportunity to share our message with such a vast audience
Los Angeles, CA (PRWEB) November 22, 2011
Shriners Hospitals for Children® is proud to participate in the 123rd Annual Tournament of Roses Parade, Monday, Jan. 2, 2012, in Pasadena, Calif. The Shriners Hospitals for Children float entitled, "Soaring for Kids" will be among the many floats, bands, and equestrian shows seen by millions of spectators around the world.
This year's Tournament of Roses theme "Just Imagine…" celebrates the power of imagination, inspiration and determination to encourage people to reach higher and try harder.
"The Tournament of Roses' theme embodies the same spirit of hope and achievement – of overcoming seemingly insurmountable obstacles and achieving more than believed possible – which our patients display every day," said Douglas Maxwell, president and CEO of Shriners Hospitals for Children. "We are proud to be associated with an organization that shares our belief in the power of the human spirit, and to have this opportunity to share our message with such a vast audience."
The festival began in 1890 and features flower-covered floats, marching bands, equestrians and, since 1902, the Rose Bowl college football game, produced by the nonprofit Pasadena Tournament of Roses Association. The Rose Parade will be broadcast live by: ABC, NBC, Hallmark Channel, HGTV, KTLA-CW and Univision. Don't forget to tune in on Jan. 2, 2012, at 8 a.m. PST / 11 a.m. EST.
About Shriners Hospitals for Children
Shriners Hospitals for Children® is changing lives every day through innovative pediatric specialty care, world-class research and outstanding medical education. The 22 hospitals in the United States, Canada and Mexico provide advanced care for children with orthopaedic conditions, burns, spinal cord injuries, and cleft lip and palate.
Shriners Hospitals for Children is a 501(c)(3) nonprofit organization and relies on the generosity of donors. All donations are tax deductible to the fullest extent permitted by law.
###