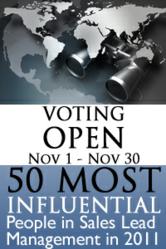 I'm privileged to be nominated once again, and again I'll ask for continued support from all those voting and especially fellow Canadians
Calgary, Alberta (PRWEB) November 23, 2011
Every year, 'The Sales Lead Management Association' (SLMA) conducts an award ceremony to recognize influential industry leaders in sales lead management. This year, in continuing the tradition, SLMA released their list of nominees to recognize "The Top 50 Most Influential People in Sales Lead Management for 2011".
Fred Yee, CEO, ActiveConversion has received this award since inception, and once again Yee – one of few Canadians is one of the proud nominees for this award. "I'm privileged to be nominated once again, and again I'll ask for continued support from all those voting and especially fellow Canadians", said Yee.
Voting is open to the public and will run through the end of November. Voters can view the full list of nominees and may cast votes for up to three nominees here: http://www.salesleadmgmtassn.com/top50_vote.htm. The results will be announced early December.
About Fred Yee
Fred Yee co-founded ActiveConversion in 2004 with the idea of providing an easy to use lead generation and management tool to companies that operate in business to business environments. Fred Yee is a well recognized entrepreneur within the Calgary and Alberta tech community, and also worldwide through his vision, leadership and passion to making it affordable and easy for small to medium sized business to generate and manage sales leads.
About ActiveConversion
ActiveConversion is a leader in lead generation, monitoring and management systems for companies with fewer than 1000 employees. It delivers its solutions through a Software-as-a-Service (SaaS) monthly subscription that is guaranteed to produce a continuous stream of interested sales leads with little or no marketing resources. For more information, visit ActiveConversion, or call 1-877-872-2ROI (toll-free U.S. and Canada).
About SLMA
The Sales Lead Management Association was founded in 2007. The association serves 3,500 members of the worldwide sales lead management community. A privately held organization, SLMA has a diversified business model with revenues coming from sponsors, display advertising, SLMA Radio, sponsored video webinars, newsletter advertising, sponsored cartoons, industry leader links, a speaker's directory, case studies and their blog, Sales Lead Management Today. SLMA featured programs include more than 300 articles and white papers, "The 50 Most Influential People in Sales Lead Management (2008, 2009, and 2010)" "The SLMA 20 Women to Watch in 2011," and "Sales Lead Management Week' (Oct. 9 through 15 in 2011). For additional information, visit SLMA.
###