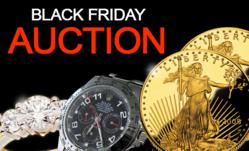 "This auction will feature the best items we have available, literally clearing our warehouse."
Tehachapi, CA (PRWEB) November 23, 2011
Government Auction announces its Annual Black Friday Auction. This is the largest auction in the company's history to date. The auction will feature over 1,600 items to be auctioned off in this one day event, featuring items such as Rare Gold Coins, Jewelry, Art, Antiques, Sports Memorabilia, Hollywood Memorabilia, Collectibles from the far east, and more.
"We've pulled out all the stops on this one," states Paul Sabesky, chief auctioneer. "This auction will feature the best items we have available, literally clearing our warehouse. With the rise in popularity of live auctions, and people wanting to buy from the comforts of their home, we think this well be our most successful auction of the year."
And indeed Mr. Sabesky may be right. The last few years has seen a dramatic increase in the way America is doing its shopping. More retailers are realizing the value of catering to an online public that is discount savvy and educated in the art of online buying. As many of the larger retailers are making it attractive to shop online with no hassle quick checkout, free shipping, and easy return policies, there is a marked increase in the number of consumers who would rather abandon the long lines, hectic shopping, and frenzied sardine like atmosphere that accompanies traditional shopping experiences.
A few of the featured items in this auction will be, 1911 $2.5 Indian Head Gold Coin, 377.86CT Ruby Necklace, 18kt Rolex Oyster Watch, 1920's Antique Swift Coffee Grinder, 8160 Sq.Ft. Lot in Black Sand Beach Hawaii, and more.
To view this auction please click the link below
BLACK FRIDAY AUCTION: Jewelry | Coins | Art - Friday, Nov 25-7:30 AM PST
http://www.liveauctioneers.com/catalog/27171
About Government Auction
Government Auction is a private company, the largest company of its kind to acquire literally thousands of properties and assets. In most cases we acquire these properties and assets at 30% - 50% of actual retail value. This enables potential buyers throughout the world to buy land and invest in assets at discounted pricing.
Contact Info:
Chris Budge
Marketing Representative
Government Auction
Phone: 661-823-1543
###