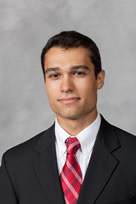 Killeen, Texas (PRWEB) November 23, 2011
The Carlson Law Firm, a Texas firm known for zealous personal injury, medical malpractice, military law, family law and bankruptcy representation, announced the addition of attorney Francisco Morales to their regiment of experienced lawyers, Thursday.
Morales joined the ranks of other talented attorneys at the firm following a move to Central Texas with his wife, a U.S. Army Jag Officer, stationed at Fort Hood. He is currently licensed in North Carolina and is seeking admission to the Texas State Bar.
Raised in Chile, Morales is fluent in Spanish, English and French, adding to the depth of Spanish speaking attorneys and staff serving the Texas Latino community.
With similar ideals and goals, Morales feels he will fit seamlessly into the well-known Texas law firm. "The mentality here is signature customer service," Morales said. "I've never heard of a law firm that places customer service so high on the list of priorities."
The young attorney's discussion of the importance of the firm's customer service is tied to his hopes of helping people who are injured victims of bad products, car accidents or other personal injuries resulting from defects or negligence.
"At this firm, I have a unique opportunity to help protect the rights and well being of our clients," said Morales. "These clients need a voice."
Managing Partner, Craig Carlson, is excited about expanding the firms representation of people who have been harmed by defective medical devices and bad drugs. "The addition of Morales to our team will allow us to expand on our successes in the litigation of defective products cases. Morales is already well educated on defective hip implants and adding value to our existing case load."
While the number of attorneys at The Carlson Law Firm is expanding, the Texas law firm is no stranger to serving clients through the state and across the United States. The established law firm has been serving injured victims and seeking recovery for clients for more than 25 years. With 27 attorneys represented in 11 locations statewide, The Carlson Law Firm offers extensive experience in medical malpractice, defective products, auto accidents, family law, military law and bankruptcy among other areas of expertise.
For more information about The Carlson Law Firm and new attorney, Francisco Morales, please call (800) 359-5690 or visit http://www.carlsonattorneys.com/
###