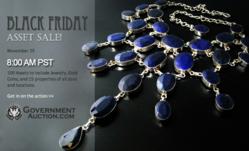 Tehachapi, CA (PRWEB) November 23, 2011
Government Auction announces its first ever Black Friday Asset Auction to be hosted on the online LIVE auction site Proxibid.com. The auction will feature over 500 items to be auctioned off in this one day event. Most items will start bidding at $1. A few of the items that will be auctioned off on the one day event will be; 372.83ct Green Sapphire Necklace, 1873 $2.5 Gold Coin, 1914 $2.5 Indian Head Gold Coin, 344.98ct Ruby Necklace, 20.29ct Blue Topaz Ring, Superbowl MVPs Plate Signatures, Aerosmith Gold LP, Ruth & Gehrig Plate Signature Memorabilia, and more.
Proxibid in an online internet auction site that services over 2,500 auction houses worldwide. They are the world's largest real auction marketplace. The auctions are similar in type to eBay, but it is a live platform. Meaning the item is presented in real time. At the close of hammer the auction ends. Many consumers are finding this type of bidding more fulfilling then traditional bidding. When the item comes up for auction, you can place an absentee bid or bid live. It is similar to attending a traditional auction setting only you are able to do it from the comfort of your own home.
To view this auction please click the link below
Black Friday Asset Sale on Proxibid.com- Friday, Nov 25-8:00 AM PST
http://www.proxibid.com/asp/catalog.asp?aid=46309
About Government Auction
Government Auction is a private company, the largest company of its kind to acquire literally thousands of properties and assets. In most cases we acquire these properties and assets at 30% - 50% of actual retail value. This enables potential buyers throughout the world to buy land and invest in assets at discounted pricing.
Contact Info:
Chris Budge
Marketing Representative
Government Auction
Phone: 661-823-1543
###