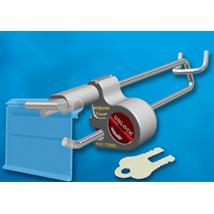 Specialty Store Services has a wide variety of theft deterrents and a large selection of innovative slatwall and pegboard accessories.
Des Plaines, IL (PRWEB) November 23, 2011
Specialty Store Services has added new retail theft deterrent and inventory facing products to help retailers reduce shrinkage and increase profit.
The easy-to-use and inexpensive Scan Hook Key Lock system keeps peg hooks stocked and locked during the high-theft holiday season and all year round. The Scan Hook Lock system is a great retail theft deterrent that secures most common scan hooks up to ¼" in diameter with 1" front wire spacing. Once the lock is attached to a hook it will never come off but the simple swing-aside access means there is no need to remove the entire lock in order to access and sell product. The Scan Hook Lock re-locks without a key; unlock several hooks at once for hands-on selling, replace items and re-lock in an instant without fumbling for a key. The Scan Hook Lock also comes with security plate for additional theft deterrence.
Prevent high volume retail theft with the Anti Sweep Scanning Hook. The Anti Sweep Scanning Hook grants direct access to product but deters "sweeping" theft by allowing only one item to be removed at a time. The front staging area on the hook allows facing of product for improved visibility. The 9 ¾" L x .212" diameter wire Anti Sweep Scanning Hooks can be used with both pegboard and slatwall. Add the 1 ¼" H x 3" W Scan Flip Label Holder to prominently display product information. The Scan Flip Label Holder snaps on to the Anti Sweep Scanning Hook, stays centered, flips out of the way for easy access and then falls back in place to display product information.
The Up Front Scanning Hook keeps inventory "up front" where customers can see it. As an item is removed from the hook, the spring-activated pusher plate moves remaining stock forward, keeping it properly faced and eliminating the need for employees to face product. The Up Front Scanning Hook works with pegboard, slatwall, Madix gondolas and Specialty Store Services' Ultima gondolas. The Up Front Scanning Hooks wire diameter is .250 in and the hooks are available in 10" and 12" lengths. Add the Flip-up Label Holder for easy product identification. The Flip-up Label Holder's soft durable hinge allows the label holder to flip up out of way for easy access to pegged merchandise. The Flip-up Label Holder securely and easily slides onto ¾" metal and plastic plates and accepts 1 ¼" x 3" non- adhesive paper labels.
Visit Specialty Store Services website to view more theft deterrents and a large selection of innovative slatwall and pegboard accessories.
About Specialty Store Services
Specialty Store Services, a second-generation family owned business, offers everything necessary to operate a thriving retail store, from logistical solutions and retail supplies to custom and stock fixtures. Over the last 25 years this service-driven company has cultivated relationships with global partners while developing the expertise and knowledge required to provide competitive prices, outstanding customer service and quality products.
###