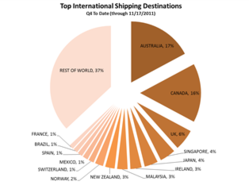 Miami, FL (PRWEB) November 28, 2011
The International market for US internet retailers is setting new records this holiday season, reports GlobalShopex, an international shipping solutions provider for US Ecommerce retailers. The company is already experiencing a record fourth quarter in international orders processed on behalf of its online retail customers. The company is also reporting top countries originating demand for US Ecommerce retailers' goods.
Already, through October and early November, a number of the company's retailers that sell internationally are experiencing more than double the international shipping volume they saw in 2010. Top countries for international orders through the GlobalShopex platform so far this season include Australia (17%), Canada (16%), and the United Kingdom (6%). Rounding out the top ten are Singapore (4%), Japan (4%), Ireland (3%), Malaysia (3%), New Zealand (3%), Norway (2%), and Switzerland (1%). GlobalShopex also reports orders from such exotic locales as Malta, New Caledonia, Barbados, Moldovia, and French Polynesia in this record setting peak selling season. In addition, new markets for US-based internet retailers are emerging, such as Latin America, where the Internet population grew by 15% to over 112 million people from 2010 to 2011 (comScore).
Lower international shipping rates and improved international shopping options provided by GlobalShopex are helping retailers sell internationally. Some of the company's retailer customers are reporting improved conversion rates on international traffic by over than 50% versus prior years. More US-based online retailers are now offering shipping options to customers located throughout the globe, including collecting duties and taxes during the checkout experience, making the shopping process much easier for customers located in other countries. Still, the majority of US Ecommerce sellers do not offer international shipping, providing significant upside opportunities for growth for these companies.
"This is turning out to be a breakout season for international holiday orders for US retailers," said Raimundo Martinez, CEO of GlobalShopex. "We were expecting to see strong demand from Canada and Australia, but we were surprised by the high volume of orders from other parts of the globe, and particularly the diversity of locations around the world. We are thrilled to be enabling this growth for Ecommerce retailers, and are really happy that our customers are seeing such success in these markets."
About GlobalShopex:
GlobalShopex, based in Miami, Florida, is a leader in international shipping solutions for Ecommerce companies. Backed by an established global logistics company founded in 1999, GlobalShopex enables US online retailers to sell internationally by fully managing and operating merchants' international Ecommerce, logistics, fraud prevention, and customer service. For more information, go to http://www.globalshopex.com
Contact:
Colleen Petschulat
VP Business Development
GlobalShopex
(561) 672-7154 phone
colleen(at)globalshopex(dot)com
http://www.globalshopex.com
###