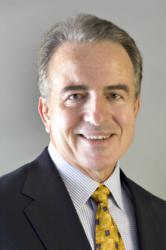 Bob's experience provides us with additional firepower.
Atlanta (PRWEB) November 23, 2011
Robert Colvin, a highly regarded healthcare executive with a track record of successful innovation, has been named president of strategicplanningMD. Colvin, whose addition to the strategicplanningMD management team is expected to fuel the company's early growth of strategic planning software and healthcare consulting services, was formerly president and chief executive officer of The Colvin Group, a healthcare consulting company that offers decisive planning, physician practices services, leadership development, and healthcare specialty expertise.
Colvin's rich background includes more than a quarter-century of CEO and senior management experience leading hospitals and health systems, including a 530-bed academic medical center, a for-profit hospital, multiple suburban facilities, and several small, rural community hospitals. The depth of his experience includes Level 1 trauma centers, large multi-specialty physician groups, regional air and ground ambulance services, home health agencies, and community primary care clinics. He has developed a nationally recognized cancer research program and facilitated the establishment of a new four-year medical school.
"Bob's experience provides us with additional firepower," said Scott Regan, founder and chief executive officer of strategicplanningMD. "His ability to provide strategic counsel and guidance to hospital boards, executive management teams, and middle managers is unparalleled in the industry. His presence on our management team is sure to spur our growth now and well into the future."
Earlier in his career, Colvin served as a Group Vice President for Quorum Health Resources(QHR), where he had crucial operational responsibility for 12 community hospitals. He has served as Chairman of both the Georgia and the Idaho Hospital Associations, has served on the American Hospital Association's Metropolitan Governing Council, and is a Fellow in the American College of Healthcare Executives. He has received the prestigious NOVA award from the American Hospital Association for his work helping build a healthcare system for the homeless in Savannah, Georgia. In addition, organizations under his leadership have been recognized by Fortune Magazine as among the 100 Best Companies to Work for In America, by J.D. Power for excellent patient experiences, and by Consumer's Digest as among the 50 safest hospitals in America.
"The future of healthcare in America will be about doing more with less. Focused, high-performance organizations will thrive while many will struggle. Dynamic program planning and execution will be essential. I honestly believe strategicplanningMD's software and services provide health systems the best opportunity to design and elevate performance to the next level. I am excited to be part of this team and what it will do for healthcare."
Colvin holds a BBA in Management and Organization and an MBA with an emphasis in finance, both from Idaho State University.
Serving more than 70 clients in 23 states,strategicplanningMD is a healthcare business intelligence company that drives excellence through innovation and performance. Through its suite of web-based strategic planning software applications and healthcare consulting services, the company helps executives respond to the significant pressures being put on the healthcare industry. strategicplanningMD's solutions enhance strategic planning and quality management processes, including visioning, analytics, plan development, quality metrics, key performance indicators, scorecards and quality improvement tracking. Its core product, StrategyPlanner, is a revolutionary application that combines a suite of business intelligence tools with best-of-breed software methodology.
###