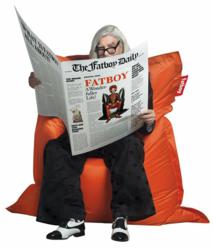 "The success of TEDxSMU speaks to the reach and impact these presentations have on people around the globe and we are proud to have been selected to enhance the environment with our stylish beanbags," said Paula Masters, President of Fatboy USA.
Dallas, Texas (PRWEB) November 23, 2011
Fatboy®, a leading trendsetter in lifestyle products, announced today it will be an official sponsor of TEDxSMU and TEDxKids @SMU, December 2 and 3 at the Dee and Charles Wyly Theatre in Dallas. The event known for connecting thought leaders, solution seekers, and the merely curious returns this year with Fatboy® originals and Fatboy® juniors as the seating option for those that are fortunate enough to attend this impactful event.
"The TEDxSMU conference is widely recognized and highly regarded in the design, entertainment and technology industry for its creativity and innovation," said Paula Masters, President of Fatboy USA. "The success of TEDxSMU speaks to the reach and impact these presentations have on people around the globe and we are proud to have been selected to enhance the environment with our stylish beanbags," continued Masters.
Licensed by the people who host the renowned TED (Technology, Entertainment and Design) conference annually in Long Beach, Calif., the TEDxSMU events are independently organized but follow the same format of lightning-fast talks on a central theme paired with compelling visuals. TED events are held around the world, many of them live-streamed, addressing a wide range of topics related to science and culture. The theme for TEDxSMU in 2011 will be disruption – a discussion of events, discoveries and how they impact us personally and as a community.
"Our driving goal for this year's TEDxSMU conference has been to incorporate 'disruption' throughout the whole experience. The Fatboy® beanbags are perfect for making sure our audience knows this day is going to be anything but ordinary. We are thrilled and grateful for the partnership, and I particularly can't wait to see how the students at TEDxKids @SMU react!" said Sharon Lyle, TEDxSMU Director.
TEDxSMU is an all-day event for pre-registered participants, and the 2010 program ranged from personal discussions of physical and mental journeys to demonstrations of high-tech gadgetry. Architect Joshua Prince-Ramus used the Wyly Theatre as a teaching tool throughout the program, opening the moveable walls of the theatre he designed to the sights and sounds of downtown Dallas at the end of the day.
TEDxKids @SMU is a half-day program designed for middle school students who hear incredible speakers, experience hands-on demos and learn during interactive breaks. In 2010, 300 middle school students learned about evolution from a Canadian rapper, witnessed a breakthrough invention called the EyeWriter, and applauded for peer presenters who spoke about micro lending, politics and poetry.
In exchange for free admission to TEDxKids @SMU, student attendees are required to complete a service project. Through projects at SMU, at school, and with local nonprofits, students who attended TEDxKids@SMU in 2010 have contributed more than 1,625 service hours to the community.
For more information, please visit http://www.tedxsmu.org/events/
About Fatboy®
Fatboy® is an imaginative lifestyle brand that excels in thinking outside the box. The Dutch company has been challenging the concepts of lifestyle product since 2002, when it set out to create the perfect lounge chair— designed for fashion, for comfort, and tailored for an unmatched lounging experience. Today, Fatboy® brings energizing comfort and smiles to people in over sixty countries worldwide with a growing line of lifestyle products all designed in the name of a wonder-fuller life. Wrap yourself in the Fatboy® brand experience and share the legacy by visiting http://www.fatboyusa.com and http://www.facebook.com/FatboyUSA.
About TEDxSMU
Bringing together ideas and interesting people from around the world and around the corner, TEDxSMU andTEDxKids @SMU are single-day conferences in Dallas, TX. Now in its third year, TEDxSMU is jointly produced by Southern Methodist University and the Idea Fund of the Communities Foundation of Texas. TEDxKids @SMU (the first TEDx event designed for students) hosts 350 middle school students for a free four-hour conference, in exchange for completing four hours of community service. TEDxSMU attendees must apply and be selected in order to participate in the full-day conference.
About TED
TED is a nonprofit organization devoted to Ideas Worth Spreading. Started as a four-day conference in California 25 years ago, TED has grown to support those world-changing ideas with multiple initiatives. The annual TED Conference invites the world's leading thinkers and doers to speak for 18 minutes. Their talks are then made available, free, at TED.com. TED speakers have included Bill Gates, Al Gore, Jane Goodall, Elizabeth Gilbert, Sir Richard Branson, Nandan Nilekani, Philippe Starck, Ngozi Okonjo-Iweala, Isabel Allende and UK Prime Minister Gordon Brown. The annual TED Conference takes place in Long Beach, California, with simulcast in Palm Springs; TEDGlobal is held each year in Oxford, UK. TED's media initiatives include TED.com, where new TEDTalks are posted daily, and the Open Translation Project, which provides subtitles and interactive transcripts as well as the ability for any TEDTalk to be translated by volunteers worldwide. TED has established the annual TED Prize, where exceptional individuals with a wish to change the world are given the opportunity to put their wishes into action; TEDx, which offers individuals or groups a way to host local, self-organized events around the world, and the TEDFellows program, helping world-changing innovators from around the globe to become part of the TED community and, with its help, amplify the impact of their remarkable projects and activities.
###