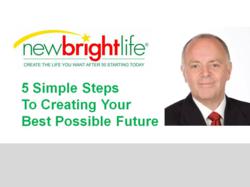 You can create the life you want after 50, starting today.
Lakewood Ranch, FL (PRWEB) November 22, 2011
According to founder George H. Schofield, PhD, the more than 70 million baby boomers in the US need new approaches for successful aging to create their best possible futures. New Bright Life believes that aging is not a problem; how most of society and the media deal with aging is the real issue. According to New Bright Life, people can learn how to create thriving lives and still deal with the challenges that will happen to most adults over 50.
New Bright Life's idea is that planning is a key component to creating a successful future and a high quality of life; but people are living longer and will need more money to accommodate this longer lifespan. According to New Bright Life, people over 50 need innovative approaches for facing complex, changing situations like financial stability, working longer, staying employed, managing health, retiring (nor not), becoming a caregiver for a parent, getting divorced or married, relocating, living with adult children, dealing with the death of a spouse or partner, and creating satisfying, meaningful lives.
The video delivers a series of critical questions for viewers to form the foundation for their best possible futures.

"Who am I now?
"Who will I want and need to be in the future?"
"Who is in my life now?"
"Who will I want and need in my life in the future?"
"How am I spending my time and energy now?"
"How will I want to use my time and energy in my future?"
The video then delivers a series of steps that can be applied to all key areas life, offering new perspectives and approaches that create more smart possibilities for people over 50:
1. health (mind/body/spirit)
2. finances
3. community, family, and friends
4. living environment
5. continuing education
6. personal growth and development
7. employment, retirement, and combinations in between
8. recreation, leisure, and service
For more information, visit http://www.mynewbrightlife.com/fe/10876-5-simple-steps-to-creating-your-best-possible-future or call Benjamin Gioia at 347-870-6502.
About New Bright Life, LLC
New Bright Life, LLC delivers innovative, life-creating approaches and problem solving tools to people over 50 in changing world. New Bright Life helps people create satisfying and meaningful lives by teaching them how to combine their personal experience and wisdom with new knowledge, mindsets and tools for the futures that want. New Bright Life recognizes that there is no one-size-fits-all solution or magic pill for life after 50. People can learn how to live their best possible lives, whether life is going smoothly or if situations are forcing major life changes to happen. Or both.
Contact:
Benjamin Gioia
Vice President
New Bright Life, LLC
347-870-6502
ben(at)newbrightlife(dot)com
http://newbrightlife.com
# # #