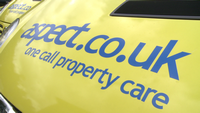 It is vital for homeowners and landlords to be made aware of the risks.
London, United Kingdom (PRWEB) November 23, 2011
This week is Carbon Monoxide Awareness Week (2011) – http://www.covictim.org/. CO-Awareness is a registered charity that supports the many victims of Carbon Monoxide (CO) poisoning, their families and friends. The campaign is built around awareness and lobbying for changes in the legislation covering the manufacture, installation and servicing of appliances burning certain fuels and reaching out to government and industry to improve safety and raise awareness.
As an approved Gas Safe contractor for the London area, aspect.co.uk, a leading property maintenance and refurbishment company, fully supports the campaign, and here – offers some topline advice:
1/ CO is a poisonous, odourless and colourless gas. It is very difficult to detect without a detector or monitor, and – in most cases – isn't picked up, until it is too late.
This highlights the need for property owners to install a carbon monoxide alarm – and aspect.co.uk would always advise putting this close to the boiler, or near to sleeping areas. The alarms are inexpensive and easy to pick up at a local DIY store. They save lives. When it comes to installing an alarm, property owners are always advised to follow the manufacturers' guidelines, to ensure the unit works as intended.
2/ CO is released during incomplete combustion of fuels. Full and proper servicing of gas appliances goes towards ensuring that the incineration process only produces a minimal amount of the gas.
3/ Regular checking of chimneys and flue systems is critical – as this is where the products from the combustion of fuels leave a property, and therefore CO may be detected in these areas. The TB008 legislation around hidden flues states that if you have a boiler, where all, or part of the flue cannot be seen, you or your landlord will need to arrange for inspection hatches to be fitted .
4/ You should have your boiler serviced once every year; book this in now – to make sure the boiler is in proper working order for winter 2011-12.
5/ When you have your boiler serviced, it is a good idea to also consider having a powerflush done as this will revitalise the system and increase the longevity of operation. This is particularly important if you have an older system that has never been cleaned out. This method will break down and remove the iron oxide build up within the radiators and pipe work. This allows the system to reach temperature far more quickly, thereby reducing fuel costs and putting less strain on the boiler.
William Davies, managing director at aspect.co.uk, commented: "Carbon Monoxide is the silent killer, and it is always saddening when you hear about people that have lost their lives in such a way – when it could be so easily avoided.
"It is vital for homeowners and landlords to be made aware of the risks; they should also be checking gas appliances, chimneys and flue systems on a regular basis."
During Carbon Monoxide Week, aspect.co.uk is offering free boiler replacement estimates and £10 off gas safety reports to all residential and commercial properties within the M25. Entries must be made before 31 November, 2011, and all work must be completed before 16 December, 2011. To book, please call 0844 774 5989, or book online at http://www.aspect.co.uk/booking/, quoting CO 'Awareness Week'.
###