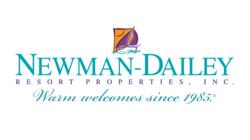 Miramar Beach, Fla. (PRWEB) November 28, 2011
Newman-Dailey Resort Properties hires Tracy Louthain Communications (TLC) to oversee its public relations program and synergize all divisions under one brand. Located along Northwest Florida's Gulf Coast, Newman-Dailey specializes in South Walton and Destin vacation rentals, property management, real estate and association management.
"We have been growing the Newman-Dailey brand over the last 26 years and each line of business has been successful on its own, but we know that the brand would be even stronger if all divisions communicated one clear, concise message," said owner Jeanne Dailey. "TLC is providing us the expertise and outside perspective to outline our core message that we want to communicate and develop a robust public relations program."
Through the discovery process, Newman-Dailey simplified its lengthy description into one concise overarching message: The trusted source for resort rentals, sales and management along the Emerald Coast.
"The process of uncovering Newman-Dailey's core company message and what the brand meant to its staff and customers was enlightening," said Tracy Louthain, APR, principal at TLC. "It was refreshing to discover a company with a loyal team committed to excellence and exceptional customer service. Staff feedback and guest input was consistent, which allowed Newman-Dailey's authentic message to illuminate quickly. Friendly, experienced, accommodating, professional and responsive were some of words that customers and clients noted, which all support the Newman-Dailey tagline--Warm welcomes since 1985."
"Staff loyalty and longevity have helped Newman-Dailey earn trust and respect by our guests and clients," continued Dailey.
The highly-skilled team of professionals has more than 220 collective years experience with Newman-Dailey and knows the local market well. This expertise and excellence in service has given way to many accolades including an "Excellent" rating on TripAdvisor as well as recognition as the best by the readers of Emerald Coast and Destin Magazines. In addition, the Newman-Dailey Real Estate division is consistently ranked among the top 10% of real estate companies along the Emerald Coast by the Emerald Coast Realtors Association (ECAR).
The public relations program will include media relations, search engine optimization (SEO) strategies, content development, community relations and social media.
For more information on Newman-Dailey Resort Properties, visit http://www.DestinVacation.com or call 1-800-225-7652.
About Newman-Dailey Resort Properties, Inc.
Newman-Dailey Resort Properties is a locally-owned business, specializing in resort rentals, sales and management in Destin and South Walton for more than 26 years. Recognized for excellence, integrity and professionalism, Newman-Dailey consistently receives "excellent" rankings on TripAdvisor, listed among the top 10 percent of real estate companies along the Emerald Coast for sales and recognition among readers as top choice for "Best of Emerald Coast" and "BESTIN DESTIN" by Emerald Coast and Destin Magazines. For more sales or rental information, call 850.837.1071, or visit online at DestinSales.com or DestinVacation.com.
About Tracy Louthain Communications, LLC (TLC)
TLC is a boutique, full-service public relations and communications firm, specializing in travel and tourism, entertainment, hospitality, restaurant, retail and marketing industries. TLC offers an array of services including strategic planning, media relations, writing, message and collateral development, web design, promotions, social media, and crisis communications.
For more information, visit http://www.tlc-pr.com.
###