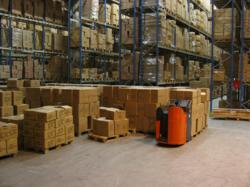 The shipping process at OCsurplus.com has been more than satisfactory since its launch earlier this year.
Fullerton, CA (PRWEB) November 23, 2011
Shipping and handling rates and strategies are one of the most widely studied areas in ecommerce and merchandise sourcing today. This is because the cost of shipping and its process plays a major role in whether or not a customer will follow through with a purchase and if they will become a returning customer. Most merchandise distributors realize the importance of building a relationship with customers, especially since it is generally less costly to maintain extant business relationships than it is to constantly attract new customers. One way to increase the volume of returning customers is to provide reliable, reasonably priced shipping, which has always been a main priority at OCsurplus.com.
OCsurplus.com is announcing a new business arrangement with UPS. This new arrangement will result in significantly reduced shipping charges. Because OCsurplus.com is always aspiring to keep their customers satisfied, all of the shipping savings will be passed directly to each and every customer. It is true that all of the direct benefits of this new business arrangement with UPS will flow straight to OCsurplus.com's customers such as 99 cents stores, retail wholesalers, variety merchandise stores, merchandise distributors, close out stores, and general dollar stores; however, this is ultimately a mutualistic arrangement in that OCsurplus.com hopes to be receiving indirect benefits such as a wider customer base and increased sales volume.
The shipping process at OCsurplus.com has been more than satisfactory since its launch earlier this year. Up-front honesty is key. In fact, customers do not even require login to view pricing. Furthermore, OCsurplus.com does not make shipping a profit center, meaning all charges attributed to shipping and handling are used for exactly that – the shipping process. In addition to reasonable shipping and handling charges, OCsurplus.com also boasts reasonable shipping and handling time. Multiple warehouses nationwide allow those who buy wholesale merchandise from OCsurplus.com to receive their shipments quickly and efficiently. Customers are emailed tracking numbers for their shipments as soon as the product leaves any OCsurplus.com warehouse, which allows a customer to view the progress of their shipment at any given time.
OCsurplus.com is a leading business-to-business supplier of wholesale general merchandise and wholesale closeouts of the most in demand brands, such as Crayola, Panasonic, Scotch, Paper Mate, Sony, Duracell, Gillette, and many more. Furthermore, they are a leading business-to-business supplier of wholesale products such as school and office supplies, toys, gift bags, greeting cards, household appliances, seasonal items, cell phone accessories, among countless other fast selling merchandise.
For more information please visit http://www.OCsurplus.com and sign up for the e-newsletter.
###