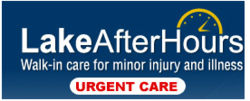 At Lake After Hours, we urge our patients to take extra precautions during the hectic holiday season
Baton Rouge, LA and Denver, CO (PRWEB) November 23, 2011
More accidents occur during the holiday season than any other time of the year. Today, Lake After Hours announced plans to extend holiday hours and reach out to patients through iTriage® - a mobile healthcare application that gives users detailed information about their facilities and the services they provide.
The many distractions of the season, especially the time between November 1 and January 1, result in unexpected illness and injury that send thousands to seek medical care each year. The top 5 health mishaps that occur during the holiday season include:

Falls – hanging lights and decorations from atop a ladder
Sprains and Strains – lifting heavy boxes, packages and suitcases
Cuts and lacerations – assembling toys, wrapping gifts
Cold and Flu – germs spread from out of town guests
Fires – candle related fires are one of the most common holiday home hazards
To give residents and travelers in Baton Rouge, Central, Denham Springs, Brusly, and Zachary quick and convenient access to symptoms, diseases and detailed facility information, Lake After Hours has partnered with the mobile healthcare application iTriage. "At Lake After Hours, we urge our patients to take extra precautions during the hectic holiday season," said Steve Sellars, CEO of Lake After Hours. In the event of an illness or injury, iTriage gives patients greater control over their healthcare by providing them with the resources to make quick, informed decisions when unexpected accidents and injuries occur." Sellars went on to say that "Lake After Hours urgent care centers on Drusilla Lane, Perkins Road, and in Zachary will be open on all major holidays from 10am – 5pm."
About Lake After Hours
Lake After Hours has 11 convenient locations throughout Baton Rouge, Brusly, Central, Denham Springs, Hammond and Zachary. Backed by the reputation and experience of Our Lady of The Lake Regional Medical Center, Lake After Hours provides a convenient, cost effective alternative when illness or injury occur. Services include on-site x-ray and lab capabilities and treatment for non-life threatening ailments including minor cuts, sprains and flu. For more information, visit http://www.lakeafterhours.com.
About iTriage, LLC
Headquartered in Denver, CO and co-founded by two emergency medicine physicians, iTriage offers a unique Symptom-to-Provider™ pathway that empowers patients to make better healthcare decisions. iTriage helps people answer the two most common medical questions: "What condition could I have?" and "Where should I go for treatment?" Millions of consumers around the globe have downloaded iTriage on their mobile devices and thousands of healthcare providers use iTriage to reach and communicate critical facility and service information to patients. For more information, visit http://about.iTriageHealth.com.
###